Workday Tutorial For Beginners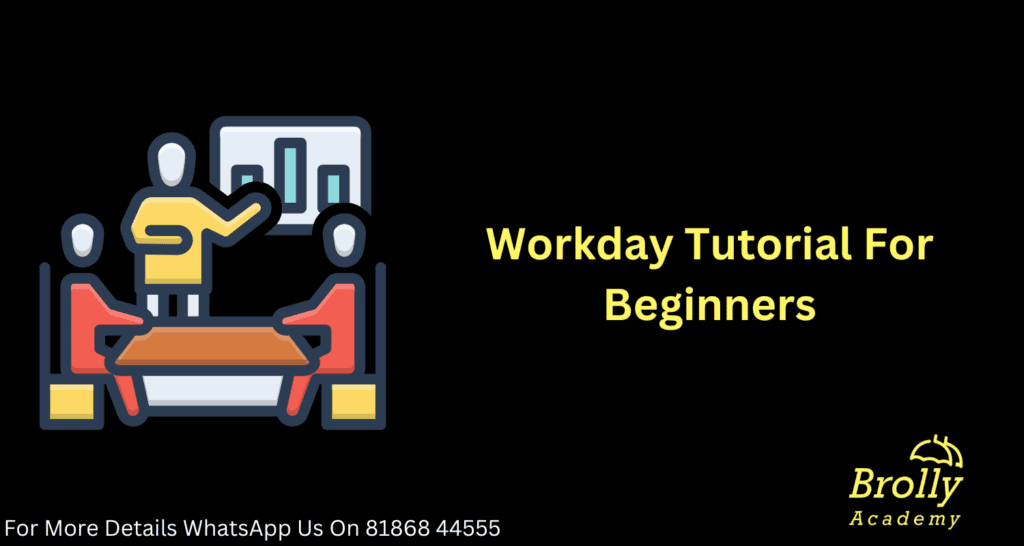 Workday Tutorial For Beginners
Software for managing finances and human capital is available in the cloud and is called Workday. Our model is the workday as a Service. Workday understands the importance of the organization's consistent integration and operation. Workday is the largest supplier in the ERP market, according to Gartner.com. Workday gives us total visibility to make decisions based on the facts with a single system for HR and finance.
Workday will improve HR and payroll compliance, lower risk, and provide the best data for making decisions. Workday has gained popularity among numerous organizations and offers a wide range of employment chances as a result of its many features and advantages.  As a result, with our Workday training, people who wish to pursue a career in the HR and Finance arena can get taught and certified in Workday. According to Indeed.com, Workday consultants in the US make an average annual compensation of roughly $95k.
Dave Duffield & Aneel Bhusri launched the cloud-based software provider Workday in 2005. The main office of Workday is in Pleasanton, California. It offers HR, finance, and planning in a single cloud-based ERP solution, improving business performance.
In order to manage HR activities, they introduced their first solution, Workday Human Capital Management, in 2006. Workday Financial Management, a financial suite that provides for the day-to-day financial management of a business, was later published by them in 2016.
Workday has continuously expanded its product over the years by including several new features aimed at planning, learning management systems, students, etc. It even has Big Data analytics capabilities. It has developed into a serious rival to ERP providers like Oracle & SAP. Leading businesses like Netflix, National Geographic, Airbnb, J.B. Hunt, etc. frequently use Workday.
To suit the constantly changing needs of modern enterprises, Workday provides a wide range of products. The following are Workday's main services:
Workday Financial Management
Workday's Financial Management module provides organizations with a comprehensive set of tools for financial planning, accounting, budgeting, procurement, expense management, and financial reporting. This module enables organizations to manage their financial operations efficiently, gain insights into financial performance, and maintain compliance with regulatory requirements.
With a focus on automation, real-time insights, and user-friendly interfaces, Workday Finance empowers finance teams to effectively manage their financial operations. Let's explore the key product areas of Workday Finance:
Workday Payroll Management
The Payroll Management module simplifies and automates the complex task of payroll processing. It supports end-to-end payroll operations, including payroll calculations, tax withholdings, time tracking integration, deductions, and direct deposit. Workday's payroll module ensures accurate and timely payroll processing, compliance with tax regulations, and seamless integration with other HR processes.
Workday Recruiting Management
The Recruiting Management module streamlines the end-to-end recruiting process, from job requisition creation to candidate selection and onboarding. It offers features such as applicant tracking, resume management, interview scheduling, and collaboration tools. Workday's recruiting management module helps organizations attract top talent, streamline hiring workflows, and enhance the candidate experience.
Workday Enterprise Planning
Workday Enterprise Planning gives organizations the ability to plan for any eventuality and be flexible enough to adapt to change. Workday Adaptive Planning is a tool that organizations can use to collaborate with teams from different functional areas, regions, and sectors. The robust engine that powers Workday Enterprise Planning is intelligent, adaptable, and simple to scale.
Customers can create unique integrations to and from the Workday platform using the sophisticated Eclipse-based integration tool known as Workday. It makes it possible for both its own users and customers from outside the company to handle, manage, and debug complex integrations that are hosted by Workday's cloud platform. Workday Studio performs more complex functions than a straightforward EIB.
Companies Who Hire For Workday Jobs
To effectively manage an organization's most valuable asset—its people—it needs to implement human capital management. It includes all of the processes involved with hiring and keeping employees. The organization's human resource division is in charge of all these managerial tasks. The company needs advanced HCM software to execute all HR activities precisely and effectively. 
There is a wide range of HCM software now on the market, but the Workday HCM suite has emerged as one of the top alternatives for most organizations. The Workday HCM is appealing to businesses because of its many features. Workday HCM is described in this article in general terms.
Workday, a leading cloud-based enterprise software platform, continues to evolve and innovate to meet the changing needs of organizations. As technology advances and new trends emerge, Workday is well-positioned to drive future developments in HR and financial management. 
One key area of the future scope of Workday is the integration of artificial intelligence (AI) and machine learning (ML) technologies. By leveraging AI and ML, Workday can enhance its capabilities in predictive analytics, intelligent automation, and data-driven decision-making. 
Another aspect of the future scope of Workday is its commitment to advanced data analytics and reporting. Workday will invest in robust reporting capabilities, interactive dashboards, and visualization tools. This will empower organizations to gain deeper insights into their HR and financial data, identify trends, and make informed decisions.
Workday has experienced tremendous growth over the last few years as a result of its distinctive services that meet the needs of contemporary organizations. Workday is consistently introducing new features to its product line in an effort to keep up with the rapidly evolving business requirements and to survive in this highly competitive sector. I hope you like this Workday tutorial.