Top Reasons to Start a Career in Business Analysis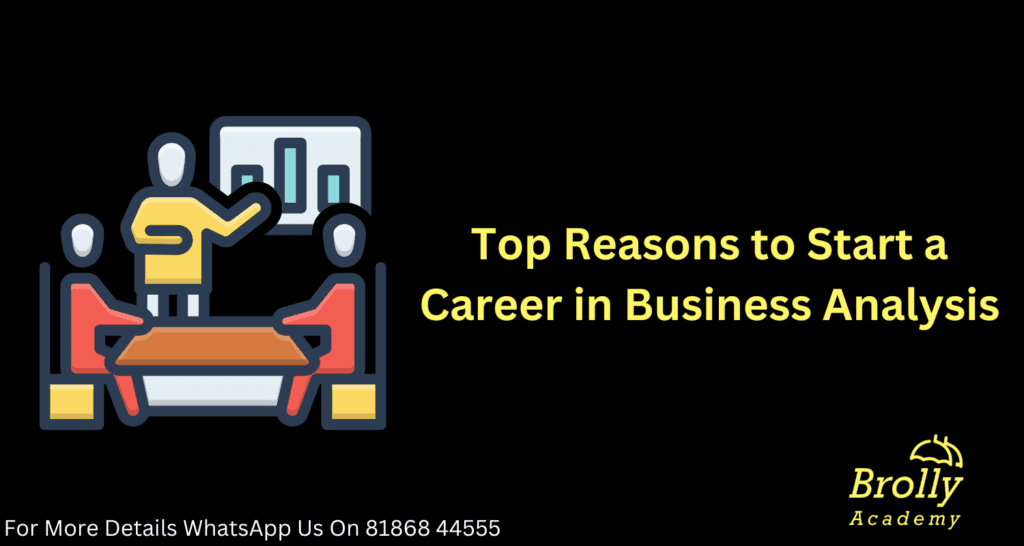 In any corporation, a business analyst is essential. Every business must adjust to market developments in the highly ambitious climate of today. This approach can be challenging at times since businesses must consider a variety of issues before changing their operations. The corporation could experience significant losses as a result of these adjustments. Consequently, it is vital to forecast the result by carefully weighing all potential outcomes. 
At this point, a business analyst is approached. A business analyst makes sure the organization is in a lucrative position while guiding it through difficult times. An analyst successfully takes into account the different variables and market circumstances in play to get this conclusion.
If you wish to work as a business analyst, you could have a lot of questions. Why do you want to become a business analyst? is answered in this article. and why do people opt to become business analysts?
Is business analysis a decent career? is a subject that many aspiring business analysts or those looking to enter or switch into the field occasionally ponder. what makes you desire to work as a business analyst? What should a business analyst expect to make? and how do you turn into a business analyst?
What Is Business Analysis?
Business analysts are responsible for comprehensively understanding the needs, goals, and challenges of an organization. They gather and analyze information from different sources, such as interviews, workshops, and documentation, to gain insights into the current state of the business. By closely examining business processes, workflows, and systems, they identify areas for improvement and propose solutions that align with the organization's strategic objectives.
A crucial aspect of the business analyst's role is to elicit and document requirements. This involves engaging with stakeholders to understand their needs and expectations and translating them into detailed and actionable specifications. The requirements captured by business analysts serve as the foundation for solution design, development, and implementation.
Who should become a business analyst?
Business analysis might occasionally drive consumers away because of its "technical" nature.
However, you shouldn't let that discourage you! In reality, anyone may become a business analyst. The necessary abilities can be learned in a short period, and you don't need to be an expert in maths, a programmer, or an A student to become proficient in them.
Anyone who likes to use their analytical skills to pose questions, find solutions to issues, and gather evidence is an excellent candidate for a job in business analysis. Business analysis will be ideal for you if you tend to want to know the answer whenever you hear an intriguing question.
Business analysts frequently work with a range of various types of data and interact with numerous departments across the organization, making it a fantastic career choice for those looking for some diversity in their work. As a business analyst, you might utilize your abilities to address issues with marketing, products, finances, customer service, engineering, and more in a year.
While it won't always be simple, you'll work to find solutions to a variety of issues rather than repeatedly performing the same thing!
Business analysis is a wonderful vocation for self-driven people who enjoy having the opportunity to approach problems in their way because business analysts are frequently very independent, working independently or in small teams as they move throughout the firm addressing problems.
Why Do Companies Hire Business Analysts?
What are the primary factors driving businesses' hiring of business analysts and why will they continue to do so?
By bridging the gap between customers and developers in digital transformation projects, business analysts facilitate the transition to the digital age.
During development, business analysts assist in translating complicated business processes. A competent business analyst can explain to technical workers how a business operates.
Business analysts can assist personnel in adjusting to the changes brought on by the use of new technologies.
Top Reasons to Start a Career in Business Analysis
Challenging and demanding work
A profession in business analysis requires a wide range of skills, including problem-solving, interpersonal relations, and time management. It is NOT an easy ride, but it can also be quite enjoyable. It's critical that you find enjoyment in your work and like challenges. Within the company you work for, you may occasionally be asked to collaborate with a variety of different teams and individuals.
There are no typical days on the job, which is something that many business analysts value. A business analyst's profession is ideal for someone who appreciates a dynamic, difficult work environment and wants to consistently hone their critical thinking and problem-solving abilities because there are always new problems to solve and challenges to overcome.
Improving business performance
A business analyst's only goal is to make the company better. If you have an excellent analytical mind and a talent for problem-solving that enables you to recognize areas that have been impeding the company's progress, you will undoubtedly appreciate suggesting solutions that enhance the business. 
The next stage is to assess the outcome of the solution and determine whether it performs exactly as you had anticipated. Even though this job might be difficult at times, it is rewarding to observe how your efforts affect both people and the company.
Therefore, a career as a business analyst can be a good fit for you if you enjoy knowing how your ideas turn out or that what you do matters. With this position, you will be able to drive change while watching it be implemented and the results materialize in real-time.
Collaborate with Diverse Stakeholders
As a business analyst, you'll collaborate with stakeholders from different departments and levels of an organization. From executives and project managers to IT professionals and end-users, your role requires effective communication and the ability to bridge the gap between business and technology. 
By engaging with diverse stakeholders, you gain insights into their perspectives, needs, and challenges. This collaborative approach helps you develop holistic solutions that align with organizational objectives and ensures successful project outcomes.
A career in business analysis offers flexibility in terms of project scope and roles. Depending on the organization and project, you may be involved in strategic planning, requirements gathering, process analysis, system design, or change management. This variety allows you to continuously learn and develop new skills. 
You can adapt your expertise to different project phases and domains, keeping your work engaging and diverse. Additionally, the flexibility of the role often opens doors to explore related areas such as project management, data analysis, or product management, enabling you to broaden your career prospects.
Growing Demand and Career Opportunities
The demand for skilled business analysts continues to rise as organizations recognize the importance of data-driven decision-making and the need for efficient business processes. Skilled business analysts are sought after across industries, ensuring a wide range of career opportunities. 
Whether you choose to work within an organization, as an independent consultant, or in a specialized consultancy firm, the job market offers ample prospects for growth, career advancement, and attractive remuneration packages. The versatility of the role also opens doors to leadership positions, project management roles, or entrepreneurial ventures.
Continuing Evolution of Business Analysis
The Initial Certificate in Business Analysis equips learners with the fundamental information required to pursue more specialized certifications in business analysis. People who finish the Entry Certificate in Business Analysis (ECBA) can go on to pursue certifications like the Certified Business Analysis Professional or the Certification of Capabilities in Business AnalysisTM.
Additionally, there are chances to specialize in particular fields like data analysis, product ownership, or process optimization, which can result in higher pay and more employment options. To improve company results across all industries, business analysis experts must develop into increasing roles that require a mix of digital skills, business insight, and specialized expertise. These are all excellent areas of specialization to investigate: the IIBA's Agile Analysis Certification, the Certificate in Cybersecurity Analysis, the Certificate in Business Data Analytics, and the Certificate in Product Ownership Analysis.
Strategic Business Planning
Business analysts are involved in strategic business planning, helping organizations define their vision, goals, and objectives. By conducting market research, performing industry analysis, and assessing competitive landscapes, you contribute to the formulation of effective business strategies. Your understanding of business processes and industry trends enables you to identify potential risks, opportunities, and areas for improvement. Through strategic planning, business analysts help organizations navigate uncertainties and make informed decisions that position them for long-term success.
The most significant benefit when working as a business analyst is this. Nearly two-thirds of your day will be spent working alone to solve problems or thinking of creative solutions to open up new company chances. Because you conduct careful research before making judgments, the actions you do to improve the business won't have a negative effect. Attending meetings with your team and stakeholders will take up the remaining one-third of your day.
In addition to competitive salaries, many organizations provide comprehensive benefits packages to their business analysts. These benefits may include health insurance, retirement plans, paid time off, professional development opportunities, and more. These perks and benefits contribute to a satisfying work-life balance and enhance the overall job satisfaction of business analysts.
If you decide to become a business analyst after earning your MBA, you will quickly see how very valuable the degree has been in this industry. This is because the more experience you have in analysis, the more successful you will be. We all know that earning a business degree calls for a certain amount of diversification; you must be well-rounded, aware of all the most important fiscal and economic changes, analyze market growth patterns, and, of course, perfect skills like networking & management.
Since you may never be sure which area of expertise will be useful in identifying a problem or even in forecasting one, all of this aggregate data and research is incredibly helpful to you when you decide to become an analyst. Because it assesses your readiness for a position requiring this level of business acumen, a business degree is also regarded as the ideal qualification for a future in business analysis.
Why is business analysis crucial?
Business demands are examined, and problems with businesses are resolved, through the process of business analysis. These solutions frequently involve developing software systems, streamlining processes, changing organizational structures, or developing strategic plans and policies. Business analysis deals with a lot of data that needs to be compared, evaluated, and analyzed.
Every organization relies heavily on business analysis. Today, business analysis necessitates documentation creation, improvement zone identification, and organizational change. It is crucial for generating various organizational-enhancing strategies and strategic planning.
A company utilizes business analysis to find and implement specific improvements that will help it reach its objectives. To improve an organization's ability to compete in the market, numerous policies and procedures may occasionally need to be changed.
Increasing communication between stakeholders & the development team is one of the main responsibilities of a business analyst. Business needs from project stakeholders can be translated into easily understandable documentation using business analysis.
Is there a future for business analysts?
The future for business analysts is bright and full of opportunities. With the increasing importance of data, digital transformation initiatives, and the evolving role of business analysts, there is a growing demand for professionals who can bridge the gap between business and technology. 
The business analyst field and profession have had to evolve and expand their toolkit of professional skills. The essential competencies and principles of a business analyst will still be required in years to come, even though the function title may alter or evolve (to specialize in particular areas).
The Global State of Business Analysis IIBA Survey is available online. gives a beneficial global study to understand how business analysis is changing in different industries worldwide and to show that the business career has a promising future.
To satisfy current corporate needs, the area of business analysis is rapidly expanding and evolving. Business analysts will have 2,720,000 more employment in the US by 2020, up from 364,000, according to the BA Times.
Business analysts are going to continue to have a significant impact on how business is conducted in the future, and as the field develops, there will be a steady stream of business analysis trends.
Starting a career in business analysis can be a rewarding choice, offering a blend of problem-solving, collaboration, and strategic influence. The field provides a platform to leverage analytical skills, bridge the gap between business and technology, and contribute to organizational success. With varied career opportunities, continuous learning, and competitive compensation, business analysis offers a promising and fulfilling career path in today's business world.
A career as a business analyst is ideal since it offers tremendous financial benefits, opportunities for professional advancement, and personal fulfillment. You should take a serious look at being a business analyst whether you are a college graduate, are professionally unsure of what to do, or are searching for some zing in your work.