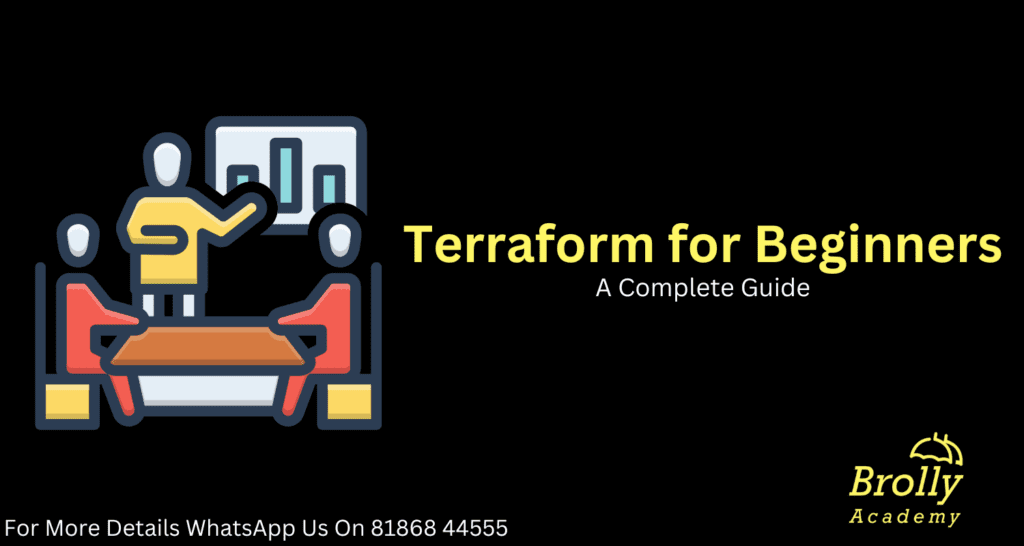 Infrastructure is one of the elements of any organization currently undergoing continuous transformation. It's always challenging to change an IT infrastructure, significantly. Because of this, businesses are constantly looking for a solid tool to carry out infrastructure upgrades efficiently.
Terraform is a tool for infrastructure as a code (IaC) in this fashion. It offers online and on-premises resources in files that can be readily accessed and shared with other apps.
An open-source tool for provisioning infrastructure is called Terraform. Terraform enables efficient management of infrastructures throughout their life cycles with standardized workflows. Additionally, Terraform will manage all resources, including DNS entries, SaaS features, computing, networking, and storage.
What Is Infrastructure as Code (IaC)?
IaC refers to the management and provisioning of infrastructure using code rather than manual procedures.
IaC makes it simpler to change and distribute configurations by generating configuration files that contain the infrastructure's specifications. Additionally, it guarantees that you always provision the same environment. IaC facilitates configuration management and enables you to prevent ad hoc, undocumented configuration changes by codifying & documenting your configuration standards.
IaC heavily relies on version control, and its configuration files must be controlled by it much like source code for other software. By deploying your infrastructure as code, you may also break it into modular components that can be automatedly joined in a variety of ways.
By using IaC to automate infrastructure provisioning, developers may avoid manually managing servers, storage, operating systems, and other infrastructure components every time they create or deploy an application. Coding your infrastructure provides a blueprint for provisioning, which can still be carried out manually or automatically using a tool like Red Hat® Ansible® Automation Platform.
To automate numerous infrastructure activities, DevOps teams frequently use the IAC tool Terraform. One of the primary use cases for Terraform is the provisioning of cloud resources, for example. It is an open-source, cloud-independent provisioning tool made by HashiCorp in the Go programming language.
You can use Terraform to write code to describe your entire infrastructure. Terraform enables you to create and manage these resources in parallel across providers, regardless of whether your servers are from the same provider or various ones, like AWS or Azure. You may use Terraform as a single language and connective tissue to manage your complete IT stack.
Terraform uses application programming interfaces (APIs) to construct and manage resources on cloud platforms and other services. Providers make it possible for Terraform to function with almost any service or platform that has an accessible API.
To handle a wide range of resources and services, HashiCorp and the Terraform community have already created thousands of providers. On the Terraform Registry, you may locate every publicly accessible provider, including Google Cloud Platform (GCP), Amazon Web Services (AWS), Kubernetes, Azure, Helm, Splunk, DataDog, GitHub, and many others.
The primary stages of the Terraform workflow are as follows:
Write: You specify resources, which might be spread out among various cloud service providers. As an example, you could set up a setup with security groups and a load balancer to deploy a software application on virtual computers in a Virtual Private Cloud (VPC) network.
Plan: Terraform builds an execution plan outlining the infrastructure it will build, update, or delete based on the current infrastructure & your configuration.
Apply: Following acceptance, Terraform executes the suggested operations correctly and with consideration for any resource dependencies. Terraform will recreate the virtual private cloud (VPC) before scaling the virtual machines, for instance, if you modify the parameters of a VPC and alter the number of virtual machines in that VPC.
What is Terraform used for?
For public cloud deployment on one of the major providers, Terraform serves a key role. The primary goal of Terraform has been and will continue to be, providing an IaC for services like AWS and Azure. Through a provider, a plugin that wraps already-existing APIs as well as languages like Azure Bicep, and the creation of Terraform syntax, Terraform makes it possible to leverage these public clouds.
Terraform's second primary function is to make multi-cloud deployments easier. Contrary to some of its other IaC competitors, Terraform performs across all of the cloud providers simultaneously, which is one of its primary selling points. Engineers may use the same syntax without having to become familiar with a variety of tools and technologies due to the flexibility to deploy resources to various cloud service providers.
Deploying, maintaining, and coordinating resources with customized cloud providers is the third most popular usage of Terraform. If you're not utilizing AWS or another popular cloud service, you may still wrap an existing API with Terraform and convert it to its declarative syntax by using a provider. Additionally, providers can be created for internal use cases in which you want to translate pre-existing tools or APIs into Terraform.
So, whether it's a single cloud, multiple clouds, or a customized deployment, Terraform enables you to manage your complete IT environment via IaC.
As previously mentioned, Terraform is one of the effective IaC technologies that is employed extensively throughout organizations. The following will go over the reasons for the same:
Resources can be managed and organized using Terraform modules, which are reusable parts of Terraform code. They offer a mechanism to package particular functionality and distribute it among various infrastructure components, making it simple to standardize infrastructure management procedures. To generate many instances of the same infrastructure, a module can be called multiple times with varied input variables and can contain variables, resources, and output. The management of extensive and complicated infrastructure can be considerably streamlined as a result.
The use of modules in configuration offers various advantages, including improved code readability, maintainability, and reuse. It is simpler to comprehend, test, and adjust infrastructure when it is divided into smaller, more manageable sections. Additionally, modules make it simpler to reuse the same infrastructure code across different applications and enable better organization. Additionally, it makes it simpler for several teams and organizations to share the same infrastructure code.
Terraform has numerous widely used modules that can be used, including ones for managing load balancers, subnets, security groups, and virtual private clouds (VPCs). Many cloud service providers also have a unique set of modules for managing resources unique to their platform. For instance, the GCP supplier includes a module for managing cloud SQL instances, whereas the AWS provider has a module for managing S3 buckets. You only need to provide any required input variables and the module's source to utilize a module. You can utilize modules from GitHub or the official Terraform Registry, among other places.
In summary, this Terraform course gave beginners an overview of Terraform, including how to get started with it, how it is used in infrastructure management, and how significant it is to current DevOps practices. In this article, we discussed Terraform's fundamentals. 
You can examine the official Terraform documentation, which offers thorough information on all elements of Terraform, to further expand your understanding of it. In addition, if you're interested in learning more, I have a thorough Terraform 101 course. Terraform 101 – Certified Terraform Associate is the name of the course. You will get the abilities you need for ongoing real-world scenarios in addition to the knowledge you need to pass the most recent Terraform Associate exam.
As we've seen, Terraform is a great tool for automating infrastructure management, and it works with various providers. I urge you to begin utilizing Terraform in your infrastructure projects as well as experiment with all the opportunities it presents. You can use Terraform to manage your infrastructure more effectively, consistently, and reliably while also making use of the many advantages of infrastructure as code. Learning Terraform is simple; all you need to do is commit to doing it every day to see how quickly you pick it up.