Roles and Responsibilities of GCP Data Engineer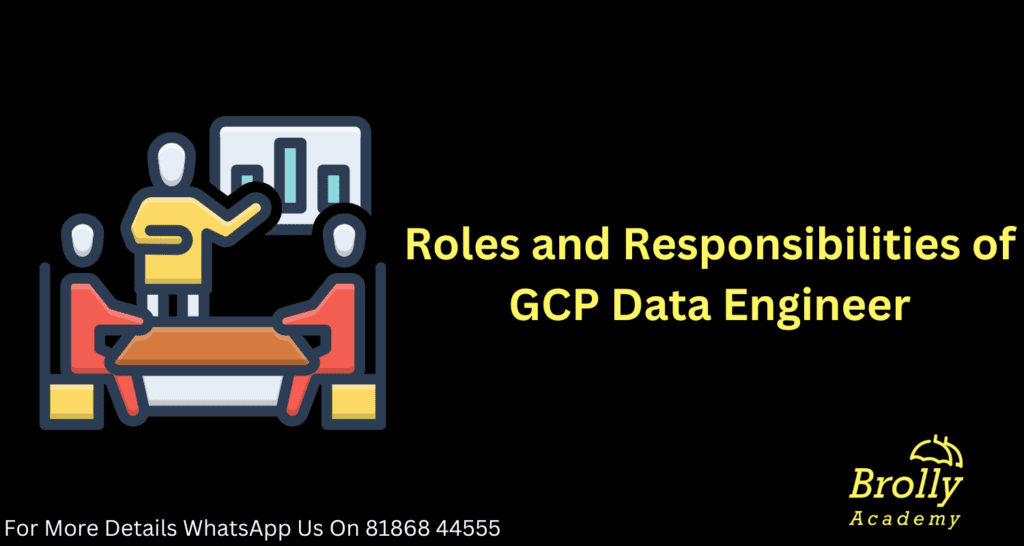 Roles and Responsibilities of GCP Data Engineer
Are you considering working as a GCP Data Engineer? This article offers advice on how to start your Google Cloud Platform data engineer career.
Many people are interested in a career as a cloud data engineer because it is one of the highest-paying positions and it solves many important business challenges. Many companies, including Google and AWS, concentrate on giving their clients the best possible cloud experience. Despite not being the market leader, Google Cloud Platform is well known for its dependability and competitive pricing.
A few years ago, nobody would have imagined themselves as a data engineer working for an analytics company. However, the function of data engineers has started to become more significant in the modern world. People are showing a lot of interest in these positions and upgrading their skills to pursue careers in data engineering on a variety of cloud platforms, including GCP, AWS, and Azure. The need for Google Cloud Platform (GCP) data engineers is currently significantly increasing; more and more people desire to enter this profession every day. This has been noticed across the globe.
One of the biggest cloud service providers worldwide is GCP. It has been claimed that the demand for GCP Data Engineers outpaces supply by a factor of three to one among the top tech data-centric enterprises. In other words, if you work as a Data Engineer on GCP, you're in the perfect job! Let's immediately first grasp what GCP is before we jump on the bandwagon of being a GCP Data Engineer.
What's a Google Data Engineer?
The process of converting unusable raw data into a more useful format so it may be analyzed has come to be known as data engineering. Data engineers manage a variety of responsibilities, including cleaning, organizing, and altering data via pipelines. 
As a Google Data Engineer, your primary responsibility would be to use the Google Cloud Platform to apply data engineering concepts.
One of the most popular systems is the Google Cloud Platform since it is very flexible, inexpensive, and secure. Adoption is increasing dramatically, leading to an increasing rise in demand for Google Data Engineers with about nine billion in sales in 2019 (more than double the revenue in 2017).
What Does a Data Engineer Do?
A database's architecture and foundation are built by data engineers. They evaluate a variety of criteria and use pertinent database approaches to build a solid architecture. The data engineer then starts building the database from scratch and starts the implementation phase. They also do testing regularly to find any flaws or performance problems. The duty of managing the database and making sure it runs without any hiccups falls to a data engineer. The accompanying IT infrastructure comes to a halt when a database malfunctions. Large-scale processing systems require regular maintenance for performance and scalability difficulties, which calls for the knowledge of a data engineer.
By creating dataset methods that aid in data mining, modeling, and production, data engineers can assist the data science team. Their input is essential in raising the caliber of the data in this way.
Roles and Responsibilities of a GCP Data Engineer
A Google Cloud Platform (GCP) Data Engineer plays a crucial role in designing, developing, and maintaining the data architecture and infrastructure required for efficient data processing and analysis on the GCP platform. They are responsible for implementing robust and scalable data solutions that empower organizations to extract valuable insights from their data. Let's explore the key roles and responsibilities of a GCP Data Engineer in more detail:
Skills Required to Become a GCP Data Engineer
Data engineering is a dynamic field that requires a combination of technical expertise, and a deep understanding of data management and processing. If you aspire to become a Data Engineer, there are several essential skills you should focus on developing.
Job Opportunities for GCP Data Engineers
Due to the increasing adoption of cloud-based solutions by businesses for their data processing requirements, Google Cloud Expert Data Engineers are in great demand. For Google Cloud Data Engineers, the following positions are available:
Data Engineer vs Data Scientists
Together, data scientists and engineers manage data. Data engineers compile and arrange the data that businesses have in databases and other formats. They also create data pipelines that provide data scientists with access to data. Data scientists use this information for analytics and other initiatives to enhance company processes and results.
Data engineers and scientists have different skill sets and areas of interest. Data engineers frequently have a broad range of knowledge and abilities and tend not to have a narrow area of expertise. In contrast, data scientists frequently have narrow areas of interest. They are worried about the deeper data analysis. Data engineers set up the infrastructure needed for data scientists to solve new, broad-based challenges.
Data engineers are in great demand after across a wide range of businesses in the data-driven world we live in today, and demand is only likely to increase. There will be a growing demand for experts who can develop, build, and maintain data processing systems as more businesses turn to data to inform business choices.
Data engineers can advance their careers and raise their earning potential by getting certifications such as the Google Cloud Professional Data Engineer certification. In a crowded employment market, it can also help people stand out from the competition.
In conclusion, the employment perspectives for data engineers are positive with great potential for professional advancement and competitive compensation. Professionals in this fascinating and developing sector will be well-positioned for success if they keep up with the most recent developments in the industry, have the requisite training and credentials, and continue to advance their knowledge through professional development.