ReactJS Tutorial for Beginners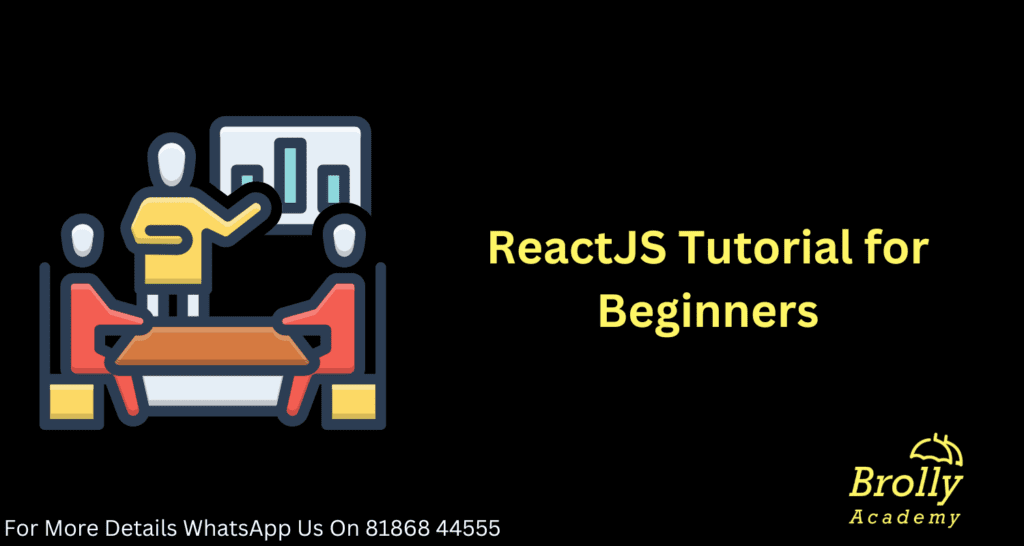 ReactJS Tutorial for Beginners
In the world of web development, creating dynamic and interactive user interfaces is crucial for delivering an exceptional user experience. This is where ReactJS comes into play. ReactJS, often referred to as React, is a powerful JavaScript library that revolutionized the way developers build web applications. Developed by Facebook, ReactJS has gained immense popularity and is widely adopted by developers worldwide. In this article, we will explore what ReactJS is, its key features, and why it has become the go-to choice for building modern web applications.
ReactJS tutorial explains both fundamental and sophisticated ReactJS concepts. One of the most widely used JavaScript front-end libraries right now, ReactJS has a solid basis and a sizable community.
ReactJS, often referred to simply as React, is a popular open-source JavaScript library that was developed by Facebook. It is primarily used for building user interfaces, specifically for single-page applications. ReactJS has gained significant traction in the web development community due to its efficiency, reusability, and ability to create interactive and responsive UIs. 
For creating reusable UI components, ReactJS is a declarative, effective, and adaptable JavaScript toolkit. It is a front-end component library that is open-source and only in charge of the application's view layer. Initially created and maintained by Facebook, it was eventually incorporated into services like WhatsApp and Instagram.
ReactJS, a powerful JavaScript library for building user interfaces, follows a unique working process that sets it apart from other frameworks. By understanding how ReactJS works under the hood, developers can leverage its features effectively and build robust applications. In this guide, we will delve into the working process of ReactJS, explaining its core concepts and the steps involved in rendering and updating components.
JSX is a syntax extension for JavaScript that allows developers to write HTML-like code directly within JavaScript. It resembles a markup language but is not valid HTML. JSX acts as a syntactic sugar for creating React elements, making it easier to define the structure and appearance of UI components.
JSX offers several advantages that enhance the development of React applications:
What are Props in ReactJS?
Properties are the complete form of a prop in React. Props is basically a container object for the values of tag attribute values. React props' function is to offer a conduit for data communication between components. 
The way that ReactJS props function is very similar to how HTML attributes function. Additionally, these are supplied to components similar to how arguments are passed to functions and used as function parameters. 
Props are unchangeable, which means you can't modify them from the components. This is a crucial fact to keep in mind. In other words, the data from the child component that originated from a parent component cannot be changed.
Different Types of Props in React
In React, props (short for properties) play a crucial role in passing data between components. They allow components to communicate and share information with each other. React props are not only limited to simple data values but can also include functions and even complex objects. In this guide, we will explore the different types of props in React and how they can be used to enhance component interactions.
In ReactJS, components are the fundamental building blocks used to create user interfaces. Components encapsulate reusable and self-contained pieces of UI, allowing developers to modularize their code and create complex UI structures efficiently. In this guide, we will explore the concept of components in ReactJS, understand their importance, and learn how to create and use components effectively.
Components are reusable and independent units of UI that can be composed together to create more complex user interfaces. In ReactJS, components can be classified into two main types:
Benefits of Using Components
Using components in ReactJS offers several benefits:
Class components in ReactJS have a lifecycle that consists of different phases, each with associated lifecycle methods. These methods allow developers to perform specific actions at different stages of a component's life, such as initialization, rendering, updating, and unmounting.
Some common lifecycle methods include:
In React, a router is a crucial component that enables navigation and routing functionality within web applications. It allows developers to define different routes, associate them with specific components, and dynamically render the appropriate component based on the current URL. In this guide, we will explore the concept of a router in React, understand its importance in building single-page applications, and learn how to implement routing functionality effectively.
Route: The Route component is used to define a mapping between a URL path and a React component. It specifies the component to render when the URL matches the defined path.

Link: The Link component is used to create links between different routes within the application. It generates anchor tags (<a>) with the appropriate URL, ensuring that navigation occurs without a page refresh.

Switch: The Switch component is used to render only the first matching Route component. It helps ensure that only one component is rendered for a given URL, preventing multiple components from being rendered simultaneously.

Router: The Router component serves as the root component for routing in a React application. It maintains the routing history and handles URL updates, allowing for navigation within the application.
We've established the groundwork for creating an amazing React application and learning how to create for React. I hope you now know something about React.