R Programming Tutorial For Beginners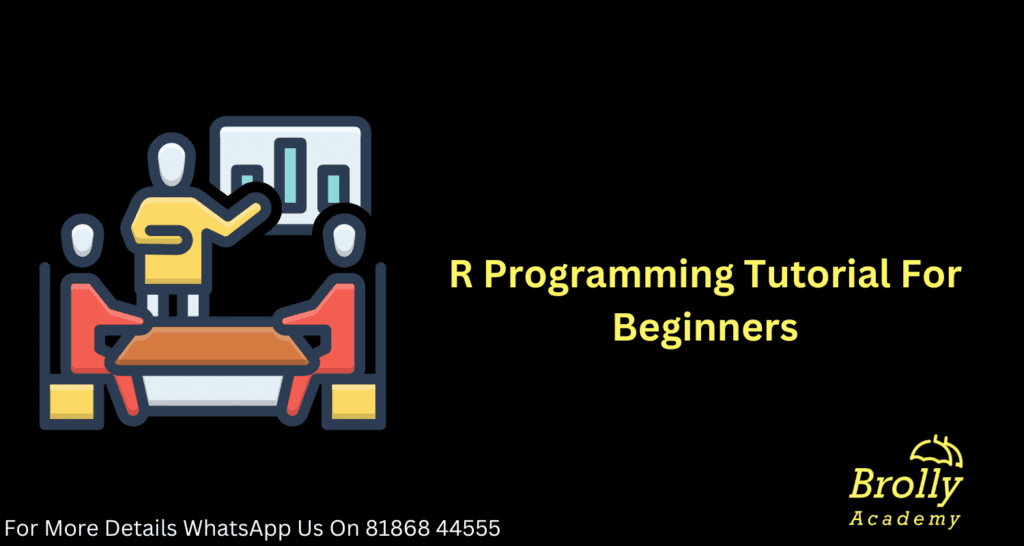 R Programming Tutorial For Beginners
R is a powerful programming language and software environment designed for statistical computing and data analysis. It is widely used by statisticians, data analysts, data scientists, and researchers for various applications, from basic data manipulation to advanced statistical modeling. Developed in the early 1990s, R has become one of the most popular programming languages in the data science and statistics communities.
Ross Ihaka & Robert Gentleman developed the interpreted programming language R at the University of Auckland in New Zealand. R is presently developed by the R Development Core Team. Additionally, it is a software environment used to examine graphical displays, reporting, and data modeling. The S programming language is implemented in R and combines with lexical scoping semantics.
In addition to branching and looping, R also enables modular programming with functions. To increase productivity, R enables integration with processes created in C, Python, C++,.Net, and FORTRAN.
The initial letter of the first names of the two R authors, Robert Gentleman, and Ross Ihaka, inspired the name of this programming language, which was partly a play on the Bell Labs Language S.
R is one of the most crucial tools used by academics, data analysts, statisticians, and marketers in the present day to retrieve, clean, analyze, visualize, and display data.
History of R Programming Language
Versions of R Programming Language
Undertake data analysis, there are several tools on the market. It takes time to learn new languages. R and Python are two good technologies that the data scientist can employ. When we first begin learning data science, we might not have the time to learn them both. It is more crucial to grasp statistical modeling and algorithms than programming languages. To compute and convey our discoveries, we employ a computer language.
Data cleaning, feature selection, feature engineering, and import are crucial tasks in data science. It should be the main priority. Understanding the data, modifying it, and exposing the best strategy are all part of the data scientist's work. R is capable of implementing the best algorithms for machine learning. We can develop advanced machine learning methods using Keras and TensorFlow. An Xgboost package is available for R. One of the top algorithms for the Kaggle competition is Xgboost.
R can call Python, Java, and C++ to connect with other languages. R has access to the field of big data as well. R may be linked to various databases, including Spark and Hadoop.
R is a fantastic tool for data analysis and exploration, to put it briefly. R is used for complex analysis including clustering, correlation, and data reduction.
R isn't any more difficult to learn than any other language, particularly if you've done programming with C or C++ in the past.
Most people would have believed that learning R was challenging many years ago. It was not only unclear but also poorly organized. Hadley Wickham developed a group of software programs known as tidyverse to address these problems and improve the usability of data processing.
Now, R makes it simple to implement the top machine learning methods. When using the R language, you've provided some incredibly strong capabilities, including packages, Keras, TensorFlow, and Xgboost.
Beyond that, R has developed to support parallel processing to speed up calculation. The package enables you to run multiple jobs at once rather than just one.
Features of R programming
The term "open source" refers to software that is freely available and can be accessed, used, modified, and distributed by anyone. R is an open-source programming language, meaning that its source code is openly available to the public. This openness fosters a collaborative and inclusive community of developers and users who can contribute to the improvement of the language. As a result, R benefits from continuous updates, bug fixes, and the addition of new features, all driven by the collective efforts of the community.
Being open-source is particularly advantageous for educational purposes, as students, researchers, and data enthusiasts can freely access R without any cost barriers. It also encourages experimentation and innovation, as users can customize the language to suit their specific needs and share their enhancements with others.
R's package ecosystem is one of its defining strengths. Packages are collections of functions, data, and documentation that extend the capabilities of the core R language. The Comprehensive R Archive Network (CRAN) is the primary repository for R packages, housing thousands of them, each designed to address specific data analysis needs.
For example, if a user wants to perform sophisticated data visualization, they can easily install the "ggplot2" package, which offers a powerful and flexible system for creating a wide range of visualizations. Similarly, if a user needs to perform complex machine learning tasks, they can install packages like "caret" or "randomForest" that provide implementations of various machine learning algorithms.
Users can save time and effort by using pre-existing solutions rather than creating the wheel due to the extensive package ecosystem. Furthermore, R's package management system makes it simple for users to access and incorporate the most recent developments in data analysis and statistical techniques into their work.
Data manipulation and cleaning are crucial steps in any data analysis project. R provides a suite of packages, such as "dplyr," "tidyr," and "reshape2," that offer intuitive and efficient tools for data transformation and cleaning.
For instance, the "dplyr" package simplifies common data manipulation tasks, such as filtering rows based on specific conditions, grouping data, summarizing data, and joining datasets. The "tidyr" package helps users reshape data into tidy formats, making it easier to work with data in a consistent and organized manner.
By using these packages, analysts can perform complex data-wrangling operations with concise and readable code, resulting in cleaner and more structured datasets for further analysis.
Data visualization is a powerful means of exploring and communicating insights from data. R's data visualization capabilities are facilitated primarily through the "ggplot2" package. "ggplot2" follows the Grammar of Graphics, which allows users to construct complex visualizations through a layered approach.
With "ggplot2," users can create various types of static and interactive plots, such as scatter plots, bar charts, line graphs, heat maps, and more. The package allows for easy customization, enabling users to modify plot aesthetics, labels, colors, and themes.
The ability to generate publication-quality graphics with relatively simple code makes R an ideal choice for data analysts and researchers who need to present their findings effectively.
R's roots in statistical computing are reflected in its extensive support for statistical analysis. The base R package provides a broad range of statistical functions, enabling users to calculate descriptive statistics, conduct hypothesis tests, and perform regression analysis, among many other statistical procedures.
Moreover, the CRAN repository hosts numerous specialized statistical packages that offer advanced modeling techniques, time series analysis, spatial statistics, and more. This wealth of statistical tools makes R a preferred language for researchers and statisticians dealing with diverse datasets and research questions.
R's flexibility allows it to integrate seamlessly with other programming languages and data sources. This is particularly useful when dealing with data from different sources or when interfacing with external systems, such as databases or web APIs.
R supports various packages and libraries that enable data connectivity and integration, making it easier for users to work with diverse datasets and data formats.
Moreover, the ability to interact with other languages, such as C++, Python, and Java, allows users to leverage existing code and take advantage of specific functionalities when necessary.
Applications of R Programming
R programming, a flexible and potent language for statistical computing and data analysis, has many uses in many different fields. R was first designed for statisticians and data analysts, but it has since become a popular choice for researchers, companies, and data enthusiasts. It is appropriate for a wide range of applications due to its enormous selection of packages and libraries.
R Programming Tutorial For Beginners
R is one of the most crucial programs used by academics, statisticians, data analysts, and marketers in the present day to retrieve, clean, analyze, visualize, and display data. You will benefit greatly from specializing in R programming as data science & big data continue to expand. Not only will learning R programming give you the skills you need for a career in data science, but it will also launch you into a job marketplace that is only going to expand significantly over the next few years. Let's start learning R programming now.