Python Training in Hyderabad
100% Placement Assistance
Python Training in Hyderabad Batch Details
| | |
| --- | --- |
| Course Fee | 20,000 Rs |
| Course Duration | 2 Months |
| Timings | Monday to Friday (Morning to Evening) |
| Next Batch Date | 7th Feb 2022 AT 11:00AM |
| Training Modes | Classroom [HYDERABAD] / Online |
| Location | Hyderabad |
Key Points Of Python Training in Hyderabad
About Python Training in Hyderabad
Python is one of the most in-demand programming languages, created in 1989 by Guido Rossum. It works in extending prototyping services for applications that are compound and complex. The highlight feature of Python is its flexibility to combine with fellow high-end courses like Artificial intelligence, machine learning, Cloud computing, Networking systems amidst other professional fields of computer science. Python is known for its upscale multi-purpose functionalities and helps in building websites, automated tasks, softwares and more. Data analysis can also be effectively conducted via python making it one of the most mouldable computer programming languages. Brolly Academy offers the best Python training in Hyderabad with a detailed course program. The training includes core topics like the fundamentals of Python, python data types and structures, control flow statements, functions, concepts focusing on objects in Python, importing statements, exception handling, Args, wargs, Zip functioning, file handling and all about it, expressions, numpy, pandas, mapping, filtering and reducing in python and much more. Brolly academy offers a wide range of courses that include both IT and software training courses in Hyderabad with updated course curriculums and modules.You will receive a Python certification upon the completion of the training program that is approved and received by most of the companies. The Python certificate will promote dynamic and flexible job opportunities for candidates with the right skills when attached to your professional resume. The python certificate offered by Brolly academy can greatly enlarge your potential employment opportunities by uplifting your career growth. This course is purposed for absolute beginners as well as Python professionals looking for a certified and advanced Python course to further refine your skills. We have trainers with a vast industrial exposure and proficiency with an impressive 8+ years of training and working as senior developers. Brolly academy offers three different modes of training that includes Python online training in Hyderabad, Python video course training in Hyderabad and Python classroom training in Hyderabad (currently suspended following the rising cases of covid) and any further updates regarding the batches and schedules will be pinned to our website. At Brolly academy we also focus on training the students by making them job ready with our placement assistance programs. Interview questions, resume preparation, mock tests, mock interviews, referrals and much more can be accessed as a part of our python Placement program. Enroll with us to get the best Python training in Hyderabad with a complete training package.
Modes of Training For Python Training in Hyderabad
Why choose us for Python Training?
Experienced Python Trainers
We have the best Python training staff at Brolly academy with highly experienced work profiles who implement excellent training methods for coaching and guiding the students throughout the program.
As a part of our training program, students will be given a chance to get hands-on experience in working with the tools and techniques that are premium and paid versions for a guaranteed practical exposure. 
Our trainers use updated curriculum and train the students with an updated version of Python. Reasoning and practical development programs will be conducted to polish your theoretical and technical Python knowledge. 
We at Brolly academy have a dedicated support staff that specialize in providing placement assistance to our students. They conduct frequent mock interviews, resume management support with top interview questions to prepare our trainees with confidence and skill. 
We have trained 70+ trainees with 45+ successful placements in some of the top companies in Hyderabad with excellent packages.
Our staff at Brolly Academy will do everything they can to help students who need assistance with the course including additional support with interview prep. You can reach any of us at any time and we respond back at the earliest.
A mandatory Python course completion certificate will be handed over to the students upon the completion of the course. The Python certificate is customized by Brolly academy with an international acceptance and accreditation to it.
The python training offered by us can be learnt from any part of the world with assured quality training. We have both online as well as video course python training that are packed with tutorials, recordings and more.  
Testimonials of Python Training in Hyderabad
You will receive a certificate from us upon completion of Python certification training in Hyderabad. The certificate can be downloaded as either a hard or digital copy, based on your requirement. It has been proven that the Python certification offered by Brolly academy can drastically help you crack interviews for desired positions and increase your starting salary by augmenting your career.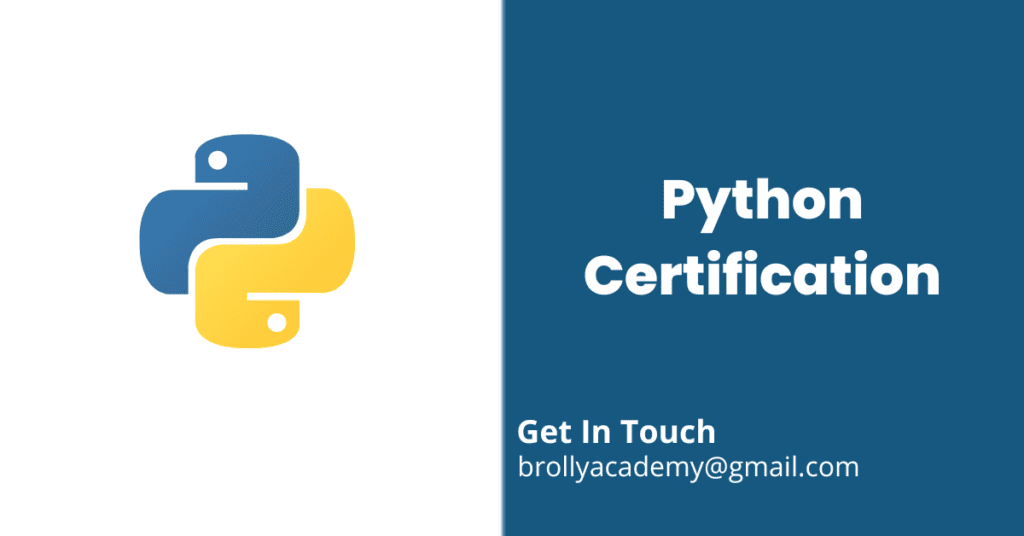 Advantages of learning Python training in Hyderabad
Our adaptive and constructive Python training at Brolly Academy will help you establish the right goals and skill set. The well-organized training program allows students to achieve the desired knowledge and expertise to excel in a career in python. We conduct our training with the implementation of the latest versions of the technology and its curriculum to keep the trainees prepared and ahead of the competition.
Skills developed after the Python course training –
Prerequisites of Python training course in Hyderabad
Career Opportunities in Python
Which is the best Python training institute in Hyderabad?
Brolly Academy offers the best Python training in Hyderabad that explores essential concepts of the language.
What is the Python training fee in Hyderabad?
The cost of Python courses in Hyderabad depends on the type of training different institutes offer. Our institute, Brolly Academy, offers Python courses at a reasonable price.
What is the average salary of a Python developer in Hyderabad?
The average salary of a Python developer in Hyderabad is ₨ 4.2 lakhs per year.
Where can I find Python training near me?
We offer Python training in Kphb and Python training in Ameerpet, you can visit us or get in touch with us for further queries.
What if I miss a class?
Students can make up for missed sessions by scheduling one-on-one training with our experienced instructors or attend the next consecutive batch.
Do you provide placement assistance?
Yes. To help our students land jobs after the completion of their training program, we assist them with mock interviews and resume preparation by providing personal guidance from industry experts as a part of our python placement assistance
Who are the trainers at Python training in Hyderabad?
The Brolly Academy's Python courses are taught by instructors who have had extensive hands-on working experience and skill.