A Complete Beginners Guide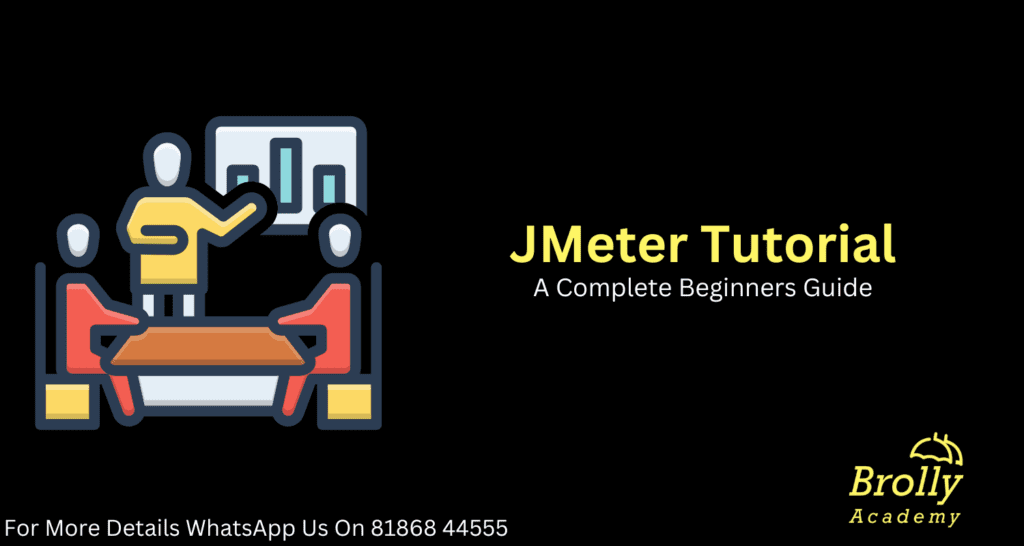 Any web application or software today must include performance testing. Knowing if the application will function normally or crash in various situations and on many platforms is crucial. JMeter is the most impressive tool for this purpose. You can learn everything you need to know about JMeter Performance Testing in this article.
What is Performance Testing?
Performance testing is a crucial aspect of software development and quality assurance that aims to evaluate the responsiveness, stability, and overall efficiency of an application under varying conditions. 
To determine how well an application works under various workloads, performance testing is a sort of software testing that replicates real-world usage scenarios. The main objective is to determine whether the program can manage the anticipated user loads without performance deterioration or breakdowns. Before an application is made available to the general public, developers can utilize this testing process to improve user experience, optimize system performance, and assure application reliability.
JMeter also referred to as "Apache JMeter," is an open-source, entirely Java-based technology with a graphical user interface. It is made to evaluate and assess the functional behavior of web applications and a range of services under load.
Although functional testing, Web services, JDBC database connections, generic TCP connections, and OS native processes are currently applicable, JMeter is primarily used for testing Web applications or FTP applications. To obtain precise performance data for your web server, you can carry out a variety of testing activities, such as performance, load, stress, regression, and functional testing.
Stefano Mazzocchi of the Apache Software Foundation is the author and original developer of JMeter. It was primarily created to evaluate Apache JServ's (now known as the Apache Tomcat project) functionality. To improve the GUI, provide more features, and enable functional testing, Apache rebuilt JMeter.
JMeter operates at the protocol level rather than being a browser and rendering HTML pages the way a browser would.
Why Performance Testing Matters
Performance testing is a critical step in the software development process and plays a significant role in the competitive digital environment of today. This testing approach is intended to assess how effectively an application performs under various circumstances and user loads. Performance testing involves running software through simulated real-world scenarios to find potential bottlenecks, evaluate scalability, and make sure the program can handle the anticipated user traffic without compromising its stability or responsiveness. Accurately measuring the application's response time is one of the main goals of performance testing. Improved user experience and greater user satisfaction are directly correlated with faster response times. 
Businesses can learn more about how an application behaves during peak usage, unexpected traffic spikes, and extended usage situations by carrying out various performance tests, including load testing, stress testing, spike testing, and endurance testing. Performance testing ultimately enables businesses to produce high-quality, dependable, and effective software solutions, which in turn develops customer loyalty and increases their market competitiveness.
Let's look at these factors to see why JMeter is the most widely used performance testing tool:
Types of performance test
These tests are used to determine the performance, or how quickly and steadily the system responds to a given workload, of the system's website server, database, or network. The software's responsiveness, stability, scalability, dependability, speed, and resource utilization are all examined during performance testing.
Is JMeter the Best Load Testing Tool?
When it comes to performing performance tests, JMeter is one of the most often used tools that software development teams & developers are familiar with utilizing because it has been one of the most well-liked open-source load testing tools for a very long time. JMeter has a lot of documentation, best practices, and community support available since the time it has been on the market. From a financial perspective, the fact that it is free, open-source software and that it requires little to no resources to get started makes it an appealing option for teams and organizations.
However, stress and load-testing solutions evolved along with technology and the spread of SaaS-based software. While open-source load testing applications like JMeter are still necessary, several cloud-based alternatives offer all the same features, advantages, and support for a more affordable monthly fee. For instance, switching from protocol-based testing to browser-based tests is essential if you want to comprehend performance from the user's point of view. In comparison to early 1990s browsers, current browsers today offer a lot more capability and support for web apps. You need a technology or solution that can handle load testing in actual browsers if you want to collect all of the required performance data from the client side.
The various JMeter components and elements each have a particular purpose. Some of these components include:
Controllers define the logic of test execution in JMeter. They govern the flow of user interactions during the test. JMeter provides several types of controllers, including:
Simple Controller: It is a basic controller that groups other elements.
Loop Controller: It allows repeating a set of samplers and other elements a specified number of times.
If Controller: It enables conditional execution of samplers based on certain conditions.
While Controller: It executes the contained elements repeatedly based on a condition.
These controllers, combined with other elements, allow testers to design complex test scenarios, create loops, implement conditional behavior, and simulate realistic user journeys through the application.
Assertions validate the response received from the server, allowing testers to check whether the application meets the expected conditions. JMeter provides several types of assertions, such as:
Response Assertion: It verifies that the response contains specific text or matches a regular expression.
Duration Assertion: It checks if the response time falls within a specified range.
Size Assertion: It validates the size of the response, ensuring it meets certain criteria.
Assertions are crucial for identifying errors and issues in the application under test. They help verify content, detect unexpected errors, and ensure that the application behaves correctly during the test.
Listeners provide real-time test result analysis by collecting and displaying various performance metrics. Testers can use listeners to view aggregate data, response times, error rates, and other critical statistics. JMeter offers several listener types, including:
Graph Results: It displays test results in a graphical format, making it easier to visualize performance trends and patterns.
Summary Report: It provides a summary of test results, including the average response time, error count, and throughput.
View Results Tree: It allows testers to view individual request and response details.
Listeners help testers monitor and analyze test progress and outcomes, providing valuable insights into the application's performance.
Configuration Elements are used to set up and manage variables and settings that affect the test plan. They allow testers to define variables, set properties, and configure parameters that impact test execution. Examples of configuration elements include:
HTTP Cookie Manager: It manages HTTP cookies, ensuring proper handling of session information during the test.
CSV Data Set Config: It reads data from a CSV file, allowing testers to parameterize the test with different sets of data.
User-Defined Variables: It defines custom variables that can be used throughout the test plan.
Configuration Elements facilitate the dynamic handling of test data and parameters, enhancing the flexibility and adaptability of the performance test.
However, cost-effectiveness, the requirement, etc. are the primary factors that determine which automation tool to use. Since JMeter is license-free, we believe its popularity among businesses, particularly small and medium-sized ones that cannot afford license fees, will only continue to rise.
The fact that it is open source is a bonus!