Introduction to Embedded Systems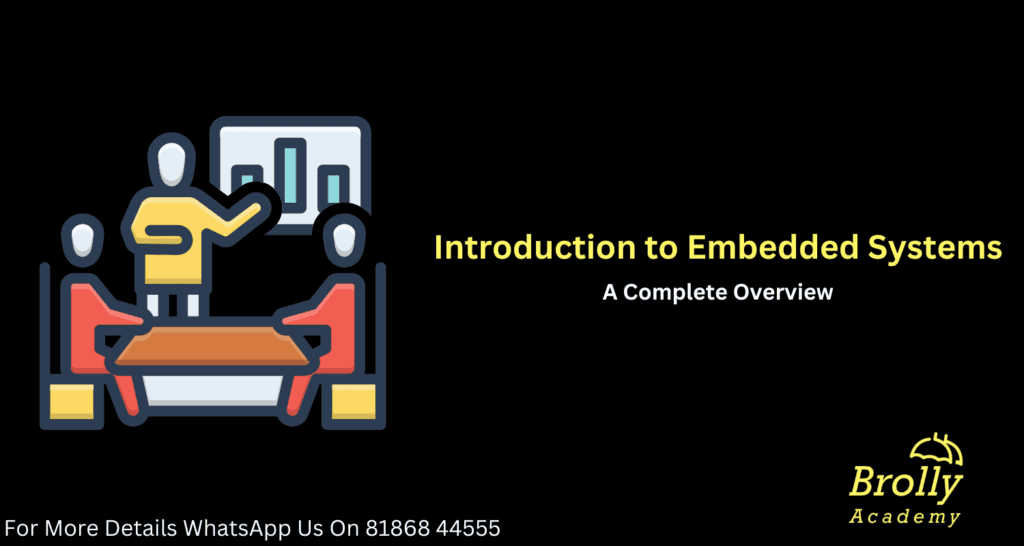 Introduction to Embedded Systems
Let's first understand the two basic terms, embedded and system, and what they mean before moving on to the overview of embedded systems. 
A system is a group of interconnected parts or components that have been established or intended to carry out specialized tasks or carry out common tasks. 
Integrating something with anything for a purpose is to be embedded. Alternatively, we might state something that is integrated into or connected to something else. Now that we understand the terms actual systems & embedded, we can quickly comprehend what embedded systems are.
What is an Embedded Systems?
A computer's hardware and software are combined to create an integrated system known as an embedded system that performs a specific function. It may be stated that a special computer system was created for that purpose. However, it is not a standard computer system or a general-purpose computer; rather, these are embedded systems, which can operate on their own or in combination with a bigger system to do a few particular tasks. These embedded systems are capable of operating with little to no human involvement.
Three primary components make up an embedded system:
Hardware: A physical component that is physically attached to an embedded system is referred to as hardware. It includes an integrated circuit with a microprocessor, a power source, an LCD display, etc.
Application software: By modifying the installed code in an embedded system, application software enables the user to execute a variety of tasks to be performed on an embedded system.
Real-Time Operating System (RTOS): RTOS controls how embedded systems function. It serves as a bridge between application software and hardware, supervising the latter while providing a way to execute the processor according to schedule to manage the impact of latencies.
Real-time Embedded systems examples
Many different technologies in a variety of industries use embedded systems. Here are a few examples:
How do embedded systems work?
Embedded systems are specialized computer systems designed to perform specific tasks within larger devices or machinery. From controlling household appliances to managing complex industrial processes, embedded systems play a crucial role in our modern world. 
At the heart of an embedded system lies its hardware components, which are carefully selected and integrated to meet the system's requirements. These components typically include a microcontroller or microprocessor, memory (both volatile RAM and non-volatile storage), input/output interfaces, and various sensors and actuators.
The microcontroller or microprocessor is the central processing unit of an embedded system. It executes program instructions, performs calculations, and controls the overall operation of the system. Microcontrollers are often preferred for their integrated features, including memory, input/output ports, and timers, making them well-suited for resource-constrained applications. On the other hand, microprocessors offer greater processing power and flexibility but require additional external components.
Embedded systems rely on software to carry out their designated tasks. The software consists of two main components: the firmware and the application software.
Firmware: The firmware is a low-level software program that resides in the non-volatile memory of the embedded system. It is responsible for initializing the hardware components, providing basic functionality, and managing system resources. The firmware is usually developed using low-level programming languages like C or assembly language.
Application Software: The application software is built on top of the firmware and is responsible for implementing the specific functionality of the embedded system. It interacts with the hardware components, processes data from sensors, performs calculations, and controls the actuators. The application software is typically developed using high-level programming languages like C, C++, or even specialized domain-specific languages.
Embedded systems interact with the external world through input and output interfaces. These interfaces enable communication with sensors to collect data and with actuators to perform physical actions. Input interfaces include analog-to-digital converters (ADCs), digital-to-analog converters (DACs), serial communication ports, and various other sensor-specific interfaces. Output interfaces include digital-to-analog converters (DACs), pulse-width modulation (PWM) outputs, serial communication ports, and other actuator-specific interfaces.
Sensors are used to measure physical quantities such as temperature, pressure, light, motion, and more. They provide input to the embedded system, allowing it to gather data from its surroundings. Actuators, on the other hand, are responsible for producing physical actions based on the system's output. Examples of actuators include motors, relays, solenoids, and LEDs. By interfacing with sensors and actuators, an embedded system can sense its environment and control external devices accordingly.
The embedded system operates in a loop, continuously executing its program instructions. It reads input data from sensors, processes it using the application software, and generates output signals to control the actuators. This cyclic operation allows the system to perform its designated tasks in a timely and efficient manner. In real-time embedded systems, timing constraints are crucial, and the system must respond within specified deadlines to ensure proper operation.
Embedded systems combine hardware components, firmware, and application software to perform specific tasks within devices and machinery. By utilizing microcontrollers or microprocessors, interfacing with sensors and actuators, and executing software instructions, embedded systems interact with their environment and provide desired functionality.
Types of embedded systems
There are a few important types of embedded systems, and each has unique functional requirements. These are:
The Benefits Of Learning Embedded Systems For A Career
Embedded systems, which are utilized in many different industries, are a significant part of modern technology. You can develop your career in technology by learning embedded systems in the following ways:
Characteristics of Embedded Systems
Advantages of Embedded Systems
Disadvantages of Embedded Systems