How to Start Your Career as a Business Analyst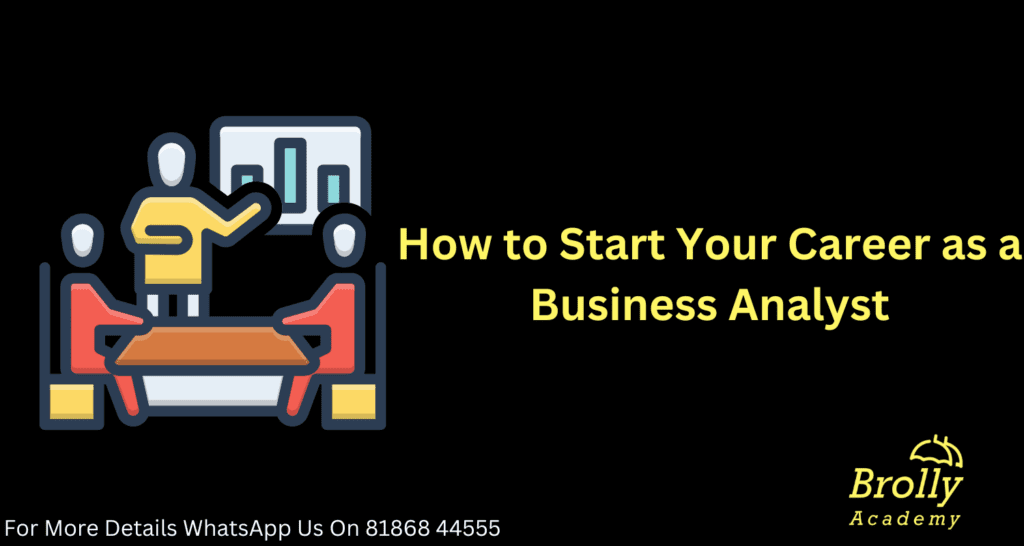 In the field of big data, there are numerous positions with the title "analyst," each with a distinct area of specialization. A career as a business analyst is a great choice for those who have knowledge aptitude for computer science and a background in business because it allows you to use both abilities to assist organizations establish data-driven strategies in operations spanning from production to marketing and much more.
Businesses across all sectors are looking for business analysts to join their teams so they can profit from the massive amount of data they gather. The business analyst profession can be the best fit for you if you're seeking a data science career that will be rewarding and sustainable over the long term.
Many professionals wish to switch their careers to business analysis, but they are afraid to apply for this position in the same or a different organization due to their lack of knowledge. As a result, make a list of the essential information you need to have before beginning a career in business analysis.
Who is a Business Analyst?
Effective business tasks are increasingly dependent on having the characteristics of a business analyst. They are in charge of comprehending the shifting business requirements, evaluating how these changes will affect things, identifying and examining requirements, reporting, and working with both the business teams and technical in correspondence. They successfully support the productivity and viability of an association.
Many individuals think that a business analyst generates revenue for an organization. Although it's not entirely accurate, a business analyst's work has an impact on a company's finances. The main responsibility of a business analyst is to close the gap between business operations and the IT department. They analyze the process and requirements using data analytics, and they provide significant recommendations based on their findings.
It is the responsibility of business analysts to convey to users and business executives how business analysis may enhance operational and organizational effectiveness. They make recommendations that are feasible from a technological, functional, and financial standpoint. Business analysts have the power to alter how work is done in for-profit or nonprofit organizations as well as government agencies.
Roles and Responsibilities of a Business Analyst
A business analyst plays a crucial role in bridging the gap between business objectives and technological solutions within an organization. 
Here are some of the roles and responsibilities of a business analyst:
How to Start Your Career as a Business Analyst
Starting a career as a business analyst can be an exciting and rewarding journey. Business analysts play a crucial role in organizations by analyzing data, identifying problems, and providing valuable insights to drive decision-making and enhance business performance. In this comprehensive guide, we will explore the essential steps you need to take to embark on a successful career as a business analyst.
Earn a Bachelor's Degree and Relevant Certification
Having a bachelor's degree in business administration or any other closely related field is the minimum level of academic required for working as a business analyst. You will learn fundamental skills including accounting, statistics, finance, and marketing with this undergraduate degree. Business majors who want to become business analysts should also think about pursuing a minor in communications or IT.
48% of business analysts, according to the International Institute of Business AnalysisTM, have a bachelor's degree as their highest level of education. Nevertheless, some businesses favor candidates with MBAs or other comparable credentials. These graduate degrees will be covered in a later section.
In addition to formal education, industry-recognized certifications can enhance your credibility and demonstrate your commitment to the profession. Consider pursuing certifications such as Certified Business Analysis Professional (CBAP) or Certification of Competency in Business Analysis (CCBA). These certifications validate your knowledge and skills in business analysis and can open doors to career opportunities.
Understand the Role of a Business Analyst
As a business analyst, your primary responsibility is to bridge the gap between business stakeholders and technical teams. You act as a facilitator, helping to establish effective communication and collaboration between these two groups.
Your role involves gathering and analyzing data to identify patterns, trends, and opportunities for improvement within an organization. 
Effective communication is vital in this role. You will be required to communicate complex technical concepts clearly and concisely to stakeholders at various levels of the organization. This includes preparing and delivering presentations, writing reports, and facilitating discussions to ensure a common understanding among stakeholders.
A business analyst needs to be proficient in a variety of technical, analytical, and interpersonal abilities. You should be knowledgeable in a variety of industries, possess a solid grasp of business principles, and be able to pick up new ideas and innovations quickly. For effectively detecting and addressing challenges, critical thinking, problem-solving, and decision-making abilities are also necessary.
Develop Core Skills and Knowledge
To excel as a business analyst, you need to acquire a set of core skills and knowledge. Here are some key areas to focus on:
Gain Practical Experience
During your practical experience, focus on developing the following skills:
Network and Engage with the Business Analysis Community
Networking plays a vital role in career development. Connect with fellow business analysts, join professional associations, and attend industry events or conferences. Engaging with the business analysis community can provide valuable insights, learning opportunities, and potential job leads.
Join online forums and social media groups dedicated to business analysis to connect with professionals in the field. Participate in discussions, ask questions, and share your experiences. Building a strong professional network can open doors to mentorship opportunities, job referrals, and access to industry resources.
Who Can Become a Business Analyst?
Becoming a business analyst is an exciting career path that offers numerous opportunities for growth and advancement. While the field may seem specialized, it is open to individuals from diverse educational backgrounds and professional experiences. Here are some key points about who can become a business analyst:
Skills Required to Become Business Analyst
Business analysts play a crucial role in helping organizations make informed decisions and improve their overall performance. If you aspire to become a successful business analyst, here are the key skills you should develop:
You are now prepared to begin your career in business analytics because you have a better understanding of what business analyst does, their roles and responsibilities, and the steps involved in becoming one.
Businesses can now access a lot of data, and there is a growing need for business analysts. The career path of a business analyst is quite promising, regardless of whether you want to change careers or are wanting to start one. 
With the help of practical projects and assignments, Brolly Academy's Business Analyst course will provide you with a complete grasp of the basic competencies of a business analyst, requirement elicitation and preparation, project management, tools, and strategies. So don't look any further and ask right away if you're seeking thorough training from professionals!