Ethical Hacking Tutorials For Beginners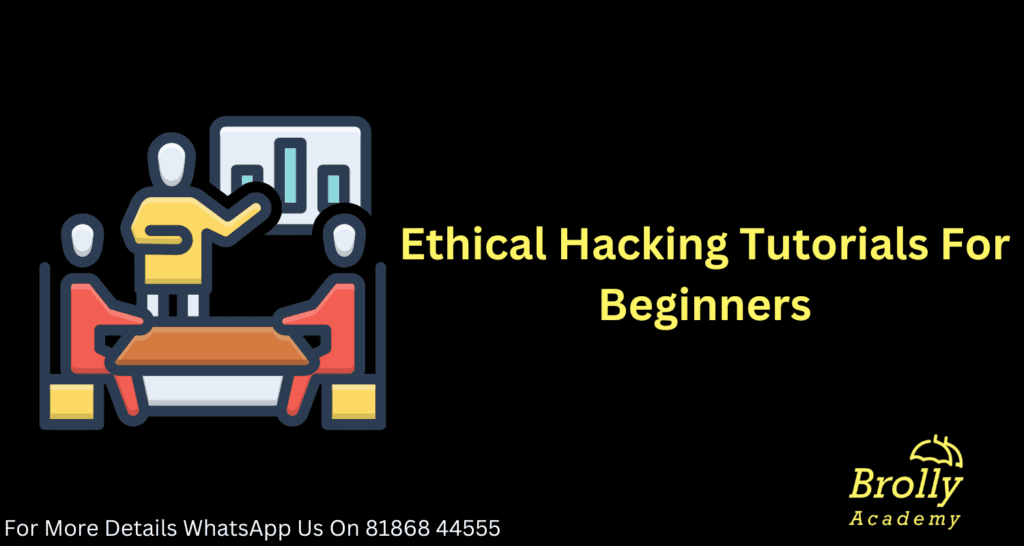 Ethical Hacking Tutorials For Beginners
The term "hacker" is used to describe programmers who gain unauthorized control over computer systems by taking advantage of bugs or security gaps, either for criminal or playful reasons. This includes the development of algorithms that compromise networks, crack passwords, or impair network functionality.
Most hacking attempts are initiated to steal valuable information or money. But hacking isn't always done with bad intentions. To identify weaknesses in a company's security system and stop future breaches, ethical hackers break in.
The field of ethical hacking is quickly gaining acceptance. There are a few free online courses where you may learn how to hack, but it's better to start by reading up on the fundamentals of hacking before digging into books and enrolling in the top training courses for ethical hacking.
Hacking is the simple procedure of identifying vulnerabilities in a system. Computer security experts that practice ethical hacking gain access to a system with the owner's or administrator's consent. Ethical hacking is a lawful form of hacking. 
Let's use an illustration to assist you comprehend it: Imagine that you have developed a new program, such as Instagram, and that you have quickly attracted a wide range of users who can utilize your service. Imagine that your app has been hacked and has slowed down or started acting abnormally. 
At this point, you'll need to work with a group of ethical hackers to identify any gaps or vulnerabilities in your application so that you can secure it from similar assaults in the future. These flaws sometimes cost companies their priceless data, their well-earned reputation, or even millions of dollars. Big organizations began engaging ethical hackers to uncover vulnerabilities in their systems in the 1970s to protect them from harmful attacks.
Different Types of Hackers?
White Hat hackers are those who engage in ethical hacking, which is also known as "White Hat" hacking. "Black Hat" hacking, in contrast to ethical hacking, refers to actions that violate security. Black Hat hackers compromise systems or destroy data using illegal methods.
"Grey Hat" hackers, in contrast to "White Hat" hackers, enter your system without your consent. But another way that Grey Hats vary from Black Hats is that they don't engage in hacking for their own or other people's gain. These hackers get into networks for entertainment or a variety of other purposes without harmful intent, frequently alerting the owner to any dangers they discover. Even though the goals of both types of hackers vary, both grey hat and black hat hacking are prohibited because they both involve an unauthorized system attack.
Why is ethical hacking so important?
Data is becoming a priceless resource. As a result, it is now more crucial than ever to protect data integrity and privacy. In summary, ethical hacking is now very crucial because of this! This is partly caused by the fact that practically every company has a web-facing side today. The internet is being used as a medium for everything from content marketing to sales. Any endpoint being utilized to serve the medium is now potentially vulnerable.
In addition, hackers in the modern day have demonstrated that they are creative geniuses when it comes to breaking into a system. Fighting fire with fire may not be effective in the real world, but an organization requires someone who thinks along the same lines to defeat a hacker of this caliber. Millions of dollars have been lost as a result of recent hacking outages. These occurrences have served as a warning and caused organizations all around the world to reconsider their position on the significance of ethical hacking & cybersecurity.
After describing the duties and relevance of ethical hackers to an organization, we can now move on to this ethical hacking tutorial's discussion of some of the fundamentals of ethical hacking. Enroll in the Ethical Hacking Certification course and earn your certification if you want to begin a career in ethical hacking.
It goes without saying that when it comes to cybercrime, more than just data is at risk. Cybercrime losses are estimated to be $945 billion, up from $522 billion in 2018, according to a 2020 analysis by the Centre for Strategic and International Studies and security software provider McAfee. They place the blame for these increased expenses on improved reporting and more potent hacking methods. 
Cybercrime can hurt public safety, economics, and national security in addition to causing the loss of data and money. Protecting businesses and their data is critical, and ethical hacking can be a key component of that protection.
The stages of hacking are described below in the steps.
Popular Ethical Hacking Tools
Ethical hacking, also known as penetration testing, involves authorized professionals using specialized tools to identify and address vulnerabilities in computer systems, networks, and applications. These tools are essential for conducting thorough security assessments and strengthening cybersecurity defenses.
Types of Ethical Hacking Jobs
As the importance of cybersecurity continues to grow, the demand for skilled professionals in the field of ethical hacking has increased. Ethical hackers, also known as cybersecurity analysts or penetration testers, play a crucial role in protecting organizations from cyber threats.