Dot Net Tutorials For Beginners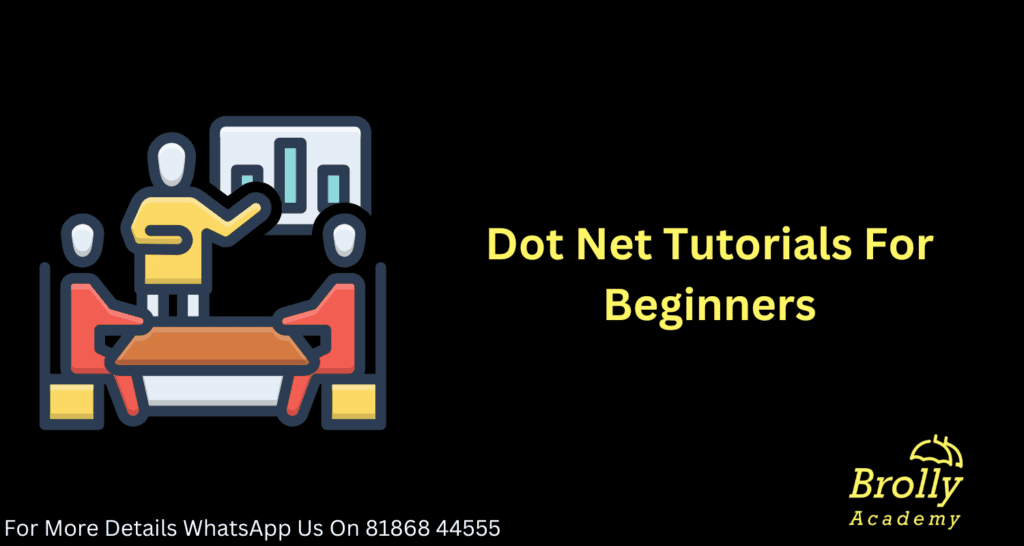 Dot Net Tutorials For Beginners
A web application platform called ASP.NET allows programmers to create dynamic websites. This framework is created and promoted by Microsoft. Due to its characteristics, ASP.NET makes it simple to create web apps. The ASP.NET framework supports VB.NET, C#, Jscript.net, and more languages. 
The logic and content of the programming are created using Microsoft ASP.NET. 2002 saw the creation of ASP.NET. Version 1.0 of ASP.NET was the first to be used. ASP.NET 4.6 is the current version. In ASP.NET, the HTTP protocol is utilized. Every online application uses the HTTP standard protocol. Writing ASP.NET applications can be done in several .NET languages, including C#, VB.NET, and others.
The .NET Framework is a Microsoft-created software development framework that offers a runtime environment, libraries, and tools for creating and running programs on Windows-based operating systems. The framework is compatible with a wide range of programming languages, including C#, F#, and Visual Basic, and it supports several application kinds, including desktop, mobile, web, and gaming apps.
The Common Language Runtime (CLR) and the.NET Framework Class Library are the two primary parts of the.NET Framework. While the class library offers a substantial collection of pre-built functions and classes that may be used to develop a wide range of applications, the CLR is in charge of coordinating the execution of code developed in any of the supported languages.
The .NET Framework's support for a wide range of programming languages is one of its main benefits. This implies that programmers can utilize the same collection of libraries and framework-provided tools while selecting the language that best suits their requirements and level of competence.
The .NET Framework's support for a range of application types is another benefit. The framework is a flexible option for developers who work on a variety of projects because it provides libraries and tools for developing desktop, online, mobile, and game apps.
.NET comprises different frameworks that cater to various application development needs. Let's see the key frameworks within the .NET ecosystem:
Setting Up the Development Environment
To begin your journey with .NET development, it's important to set up the necessary tools and environment.
Components of .NET Framework
It consists of several key components that work together to enable efficient and robust software development.
Object-oriented software development model
Object-oriented programming (OOP) is the foundation of .NET. The software can be divided into smaller, simpler-to-manage components using the OOP development model. OOP divides data into objects, or data fields, and uses the declaration of classes to describe the behavior and contents of objects.
Without having to manage internal object properties, a modular framework aids in defining the behavior of objects and their interactions. OOP makes programming easier by making the code more manageable, testable, and responsive to recurring problems. Additionally, it reduces pointless coding, which frees up developers from writing as much code. Reusing code and components with .NET reduce development costs by saving time and resources.
Easy to maintain and flexible deployment
Flexible deployment is one of the key.NET Core characteristics. It may need a separate installation or be installed as a component of your application. The modular structure allows for the inclusion of all required dependencies. It is simple to deploy a system by just copying a folder.
Another advantage is that you can run different .NET Core versions concurrently on the same workstation to handle various projects and carry out deployment operations without any issues.
In ASP.NET, automatic monitoring
Automatic monitoring is integrated into ASP.NET. The websites and programs that run on the Windows Web Server are closely monitored. It promptly warns about any problems, including memory leaks and infinite loops, if they happen. This enables the direct correction of undesirable behaviors and the development of new procedures. The monitoring makes sure that .NET applications are more stable and transparent.
Enhanced Security Features
Security is a critical aspect of modern software development, and .NET provides robust security features to protect applications from vulnerabilities and threats. .NET implements a variety of security mechanisms, including code access security, role-based authentication, encryption, and data validation. The framework also incorporates industry-standard security practices, such as the use of Secure Sockets Layer (SSL) for secure communication. These built-in security features simplify the implementation of secure applications and help protect sensitive data.
Integrated Development Environment (IDE) Support
.NET provides excellent support through its Integrated Development Environment (IDE) – Visual Studio. Visual Studio offers a rich set of tools, debugging capabilities, and productivity features that enhance the development experience. The IDE provides code editors, project management, version control integration, and extensive debugging and profiling tools. Visual Studio's intuitive user interface and comprehensive feature set enable developers to write, test, and debug code efficiently, improving productivity and code quality.