DBT Tutorial For Beginners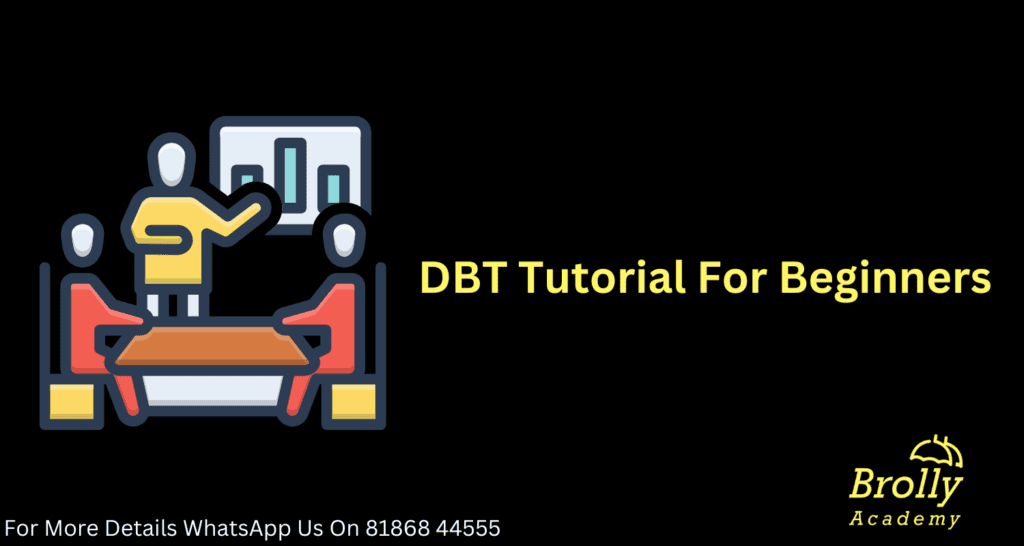 DBT Tutorial For Beginners
The data modeling industry is obsessed with dbts or data build tools. Why else would it not be? It aids in adhering to recommended practices for coding and is simple to use and understand.
Dbt is a real analytics engineer's dream! By allowing us from having to write code, it facilitates our lives. No extra tools are required because it enables us to evaluate all of our data sources as well as data models just within the project.
Your project can be as straightforward or complex as you like. dbt writes its data models using fundamental SQL. Additionally, it makes use of the Jinja templating language, while you are not required to do so.
Dbt has this superpower. It's simple to pick up how to use if you want to. It expands upon the SQL skills that the majority of data analysts and data engineers currently possess.
Additionally, for those with more experience who have been using dbt for many years, it can be integrated into much more than just simple SQL. There is space for everyone to enjoy themselves!
DBT is a transformation workflow that enables you to accomplish more work quickly and with higher-caliber outcomes. By centralizing and modularizing your analytics code with DBT, you can provide your data team with the kind of constraints that are common in software engineering workflows. Before securely sending your queries to production, collaborate on the data models, with monitoring and visibility, version them, test them, and then write up and record your results.
To work together on a single source of truth for metrics, business definitions, and insights, your team can use DBT to compile and run your analytics code against your data platform. The ability to construct tests for your data and this single source of truth prevent errors when logic shifts and notify you of problems.
With the help of Jinja and YAML for creating configurations and writing SQL SELECT statements, DBT enables you to model your data transformations. Your models infer relationships, and you offer extra model characteristics like tests and descriptions in YAML. Your DBT project is converted into a Direct Acyclic Graph (DAG), which is shown graphically in the documentation and gives you details about data lineage. Additionally, this DAG makes it possible to run different data models simultaneously.
DBT handles the difficult lifting on your behalf. Depending on the settings, your models manifest in various ways when you execute a DBT project. Writing the statement that produces the results in your table should be your main focus. DBT handles all table creation, inserts, upserts, and snapshot creation.
DBT is really just a collection of SQL queries that can depend on a few different inputs. The four main advantages are listed below.
How is DBT Different Than Other Tools?
DBT, also known as Data Build Tool, stands out from other data transformation tools due to its unique approach and capabilities. Unlike traditional Extract, Transform, Load (ETL) tools, dbt focuses on the transformation aspect, decoupling it from data extraction and loading processes. This means that dbt works directly with your data warehouse, leveraging the power and scalability of modern cloud-based warehouses like BigQuery, Snowflake, or Redshift. 
One key distinction of dbt is its use of SQL as the primary transformation language, allowing data analysts and engineers to write transformations using familiar SQL syntax. This SQL-centric approach not only eases the learning curve but also promotes collaboration among data professionals. Additionally, dbt fosters a code-first, version-controlled workflow, enabling teams to manage changes efficiently and maintain a clear audit trail. 
Another standout feature is dbt's powerful modeling capabilities, enabling analysts to define reusable data models that serve as the foundation for various reports and analyses. Overall, dbt's focus on simplicity, SQL-driven transformations, and efficient collaboration sets it apart as a game-changer in the world of data transformation tools.
The combination of dbt (Data Build Tool) with Snowflake has become a powerful combination in the constantly changing world of data analytics and warehousing. With their exceptional speed, flexibility, and collaboration, this dynamic team has completely changed how businesses manage their data transformation processes.
Prerequisites for Beginning with DBT
We advise learning the following three prerequisites before learning dbt (data build tool):
SQL: You must be experienced in using SQL SELECT statements because dbt employs SQL as its primary language for transformations. If you lack this background, there are many online courses available. Be sure to select one that provides you with the foundation you need to start learning dbt.
Modeling: When it comes to data modeling, you should have a plan, just like you would with any other data transformation tool. This is crucial for the reuse of code, digging deeper, and performance improvement. Instead of just adopting the structure of your data sources, we advise translating data into the vocabulary and organizational framework of the business. Modeling is crucial to organizing your project and achieving long-term success.
Git: You must be knowledgeable about Git if you want to understand how to utilize dbt Core. Finding a course that addresses Git Workflow, Git Branching, and using Git in a collaborative environment is advised. Search through the many fantastic selections on the internet until you find one you like.
DBT generally adds a lot to initiatives that significantly rely on data transformations. It is portable and simple to enter. Take a look at DBT if you're seeking for a tool to make your data transformation process more efficient. DBT also enables you to provide your development process with more structure. DBT includes distinct settings, thorough testing, and documentation.