Benefits of Using Salesforce Lightning for Your Business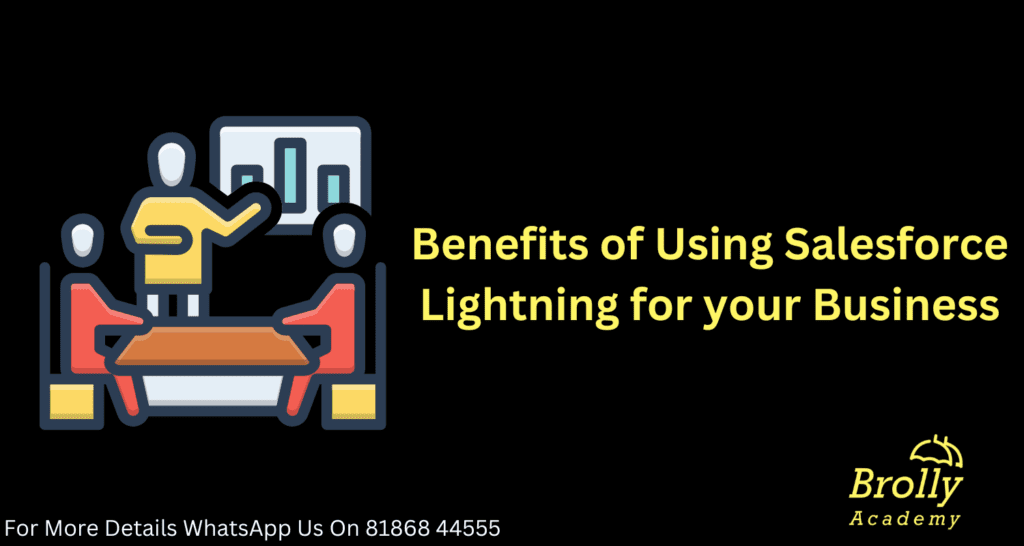 Salesforce Lightning is a platform that gives companies the ability to create unique applications. Salesforce Lightning is a fairly new platform compared to Salesforce Classic, but it has already become very popular because of the various advantages it provides enterprises.
Increased sales team efficiency, better analytics, third-party connectors, information security, and automation are a few of the major advantages of Salesforce Lightning.
This article is for you if your company is considering implementing Salesforce Lightning. In it, we'll talk about the platform's various advantages and how using it can help you grow your company.
What Is Salesforce Lightning?
Salesforce Lightning is a component-based framework for creating apps for the Salesforce CRM. Despite their discomfort with coding, businesses that use websites and apps still want to be present online. They navigate using component-based frameworks.
The Lightning framework can be thought of as a way to construct your application without having sufficient technical experience because Salesforce has a large audience.
The same task was carried out using Salesforce Classic, the previous version. However, the CRM launched this updated version to address the problems encountered previously and offer a better user experience.
Salesforce Lightning features
You will be able to manage your business in an entirely new way because of Salesforce Lightning. Here, we're highlighting a list of salesforce lightning features and advantages so you can learn more about this advanced platform.
Lightning Experience is a standardized graphical user interface (GUI) that guarantees rapid and accurate processes in no time. Sales representatives can close deals more quickly since consumers are linked to more effective delivery. The Salesforce lightning experience introduces several new and updated pages to facilitate the quick discovery of records and the creation of reports and dashboards. 
Access to several tools, including dashboards, calendars, feeds, reports, etc., is made simple by clicking on the icons and navigating the menus. The Lightning Experience's object manager makes it easier to access various features such as fields, page layouts, validation rules, and more from a single page.
The improved user experience provided by this new interface includes customized dashboards, tracking of previous and present activity, and other features. As a result, obtaining Salesforce lightning training will enable you to improve your performance at work by learning numerous lightning experience concepts.
The standout aspect of this upgraded platform is Lightning Voice for Salesforce. Connecting businesspeople with clients gives them a huge advantage. You will be able to use it to make audio calls directly from Sales Cloud. This means that if your cell phone is integrated into Salesforce, you can make and receive calls from anywhere you are utilizing its features. In addition to this, the finest aspect of this feature is that you may record calls and take notes while you are on a call.
Lightning Application Builder
The best aspect of the entire Lightning Platform advancement, without a doubt, is this. You may create applications without writing any code with the new Salesforce Lightning Application Builder. This simply implies that you don't have to be an expert programmer to create apps on the Lightning platform; all it takes is a few clicks in the appropriate areas.  
Anyone on the team can modify the pages and move the Lightning Components to pin up the apps with the aid of this Salesforce Lightning capability. The Lightning App Builder has three different types of segments, which are described below:
The 'Activities' timeline is already well-known to everyone who has ever seen Lightning. The Activities timeline is a feature that can be found on practically every items page, giving you a glance into the past and future. 
Sales staff may rapidly get up to speed by viewing all previous tasks, activities, emails, and events in the chronological sequence of when they are due. Additionally, you have easy access to the 'Log a Call', 'New Event', and 'Email functions' choices that load inside the Component.
Lightning Web Component or LWC
To develop Lightning components, the LWC programming model was introduced. With the LWC capability, Salesforce Lightning developers have a lot less work to do because these HTML elements only need a few lines of code. This low-code tool assists businesses in creating and providing an outstanding web experience. It is a programming framework that works in concert with the Aura concept to get the best results. The most complex Salesforce development and JavaScript development can both be optimized using the new LWC.
The smooth, simple, and intelligent design of Lightning is assisting businesses in using Salesforce and CRM more effectively, which eventually leads to increased productivity through increased deal completion. The success of Lightning is due to its cutting-edge user interface, intelligent views, integrated dashboards, drag-and-drop functionality, lightning components, customizations, and the strength of AI. As a Salesforce partner, CEPTES has assisted numerous businesses in utilizing the Lightning platform to accomplish greater business objectives and speed up the closing of more deals.
Salesforce Classic vs Salesforce Lightning
When we refer to Salesforce Classic, we indicate the platform's user interface that was in use before the Lightning release. It has a very antiquated style with little, low-resolution visuals and icons as well as text elements that appear strange on current monitors. As a result, using Salesforce to navigate and swiftly process information is difficult.

Most long-time Salesforce users who aren't ready to switch to a modern UI still use Salesforce Classic. Conversely, new Salesforce users have the choice to switch to the Classic design if necessary and are instead automatically switched to the Lightning mode.

According to the publication Salesforce Lightning Experiences-Only Exclusive Features, customers who use Lightning Experiences are 25% more productive than those who use Salesforce Classic. This is so because Lightning is the only application that offers hundreds of fresh, cutting-edge capabilities.

Using Lightning Experience, users reported a 41% boost in productivity, a 22% rise in win rates, a 23% faster time to close deals, a 40% increase in cooperation, and a 44% increase in conversion rate, according to the Lightning Adoption Survey.
Why should you use the Salesforce Lightning Experience?
Every business needs to communicate with its clients. Effective growth is required for it to expand. In particular, these interactions involve marketing, commerce, sales, and customer support. Companies need sophisticated software, which Salesforce already offers, to make things easy. The new Salesforce Lightning solution that is (Salesforce Lightning) is intended to further simplify by streamlining customer support and sales operations using cloud-based solutions.  
Even though Einstein forecasts and substantial sales data are typical features of both Lightning and Classic, individuals who are familiar with Salesforce Classic are aware that it lacks several of Lightning's capabilities, including a contemporary interface, regular updates, and an activity timeline. Salesforce Classic is still available, but users are progressively switching to Salesforce Lightning to more efficiently collect, process, and apply business data.
Benefits of Using Salesforce Lightning
Salesforce Lightning offers a visually appealing and intuitive user interface, designed to optimize user productivity and engagement. The Lightning Experience provides a modern, responsive design that allows users to navigate through various features effortlessly. The customizable dashboards and flexible layouts enable users to personalize their workspace and access important information at a glance. 
Additionally, the drag-and-drop functionality simplifies tasks such as creating records, updating data, and managing workflows. With enhanced mobile capabilities, users can seamlessly access and work on Salesforce from their smartphones or tablets, enabling productivity on the go.
Salesforce Lightning is equipped with powerful automation features that help businesses streamline their processes and boost productivity. The Lightning App Builder allows users to create custom applications and user interfaces without extensive coding knowledge. This empowers businesses to rapidly build tailored solutions that meet their specific needs, saving time and resources. 
Lightning Components provide reusable building blocks, enabling developers to create complex functionality quickly. These components can be shared across different applications, accelerating development time and promoting consistency. Furthermore, Lightning Flow allows businesses to automate complex workflows, reducing manual effort and improving efficiency.
Advanced Analytics and Reporting
Salesforce Lightning provides robust analytics and reporting capabilities, enabling businesses to gain valuable insights from their data. The platform offers customizable reports and dashboards, allowing users to visualize and analyze key metrics relevant to their business. With real-time analytics, businesses can monitor their performance, track sales trends, and identify areas for improvement. 
Advanced features like Einstein Analytics bring AI-driven insights to the forefront, providing predictive and prescriptive analytics to guide decision-making. With comprehensive reporting capabilities, businesses can make data-driven decisions, optimize their strategies, and drive growth.
Salesforce Lightning seamlessly integrates with a wide range of third-party applications, making it a powerful hub for consolidating data and workflows. Integration with popular tools such as marketing automation platforms, email systems, and customer support software enables businesses to unify their operations and eliminate data silos. 
By connecting these systems with Salesforce Lightning, businesses can ensure a synchronized flow of information, enabling efficient collaboration among teams and providing a holistic view of customer interactions. The ability to integrate with external systems simplifies processes, reduces manual data entry, and enhances operational efficiency.
Personalized Customer Experiences
Salesforce Lightning empowers businesses to deliver personalized and exceptional customer experiences. With a 360-degree view of customer data, businesses can understand their customer's preferences, purchase histories, and interactions across multiple channels. This wealth of information allows businesses to tailor their interactions, provide relevant recommendations, and anticipate customer needs. 
Features like Salesforce Engage enable sales representatives to personalize communication with prospects, while Marketing Cloud allows for targeted and personalized marketing campaigns. By leveraging the power of Salesforce Lightning, businesses can build stronger customer relationships, foster loyalty, and drive revenue growth.
Scalability and Flexibility
Salesforce Lightning is built on a highly scalable and flexible platform, accommodating businesses of all sizes and stages of growth. The cloud-based infrastructure ensures high availability, reliability, and security of data. As businesses expand and add new users, Salesforce Lightning can easily scale to meet their evolving needs. 
The platform allows businesses to customize and extend functionalities with the AppExchange marketplace, offering a vast ecosystem of pre-built apps and integrations. Whether it's adding new modules, integrating with external systems, or expanding to new business units, Salesforce Lightning provides the scalability and flexibility required for sustained business growth.
Salesforce is committed to continuous innovation and regularly releases updates and new features for the Lightning platform. By adopting Salesforce Lightning, businesses can stay at the forefront of technology advancements. The platform embraces emerging technologies such as artificial intelligence (AI), machine learning (ML), and the Internet of Things (IoT), providing businesses with opportunities to leverage these capabilities. 
The regular updates ensure that businesses can benefit from new tools, enhancements, and functionalities without the need for major software upgrades or disruptions. This commitment to innovation ensures that businesses can future-proof their operations and stay competitive in the ever-evolving digital landscape.
Data Access From Anywhere Anytime
Because of modern technology, conducting business operations no longer requires any specific hardware or infrastructure. Wherever we travel, we can bring our work with us. And the pandemic's arrival has simply demonstrated that it may act as a catalyst in any civilization.
Salesforce Lightning's flawless remote functionalities have just improved the situation. It allows the sales team the freedom to operate from any location, including at home, when traveling, or in the office.
Mobile devices now have access to desktop CRM due to the lightning feature. It makes it simple for businesses to follow up with consumers whenever they want, from wherever, and to keep track of the status of their accounts.
With Salesforce Lightning's most recent features, the sales team may automate the sales process, increasing conversion rates. The process of turning leads into sales is time-consuming; the sales team must follow up with prospects, develop unique estimates for each client, and do a variety of other tasks. 
They are consequently unable to fully focus on making sales. The sales pipeline will be automatically designed by the function "Sales Path." This will assist the user in persuading leads and gaining their trust swiftly and effectively.
Salesforce Lightning offers a comprehensive suite of features and benefits that enable businesses to streamline operations, drive productivity, and deliver exceptional customer experiences. These business advantages of Salesforce Lightning will not only provide you with a clear understanding of what's happening in your company, but they will also lay the groundwork for achieving it. There will undoubtedly be a work gap while the restructuring process takes place, but future endeavors look promising.
Businesses can realize their full potential, promote innovation, and maintain a competitive advantage in the competitive business landscape of today and tomorrow by utilizing the power of Salesforce Lightning.