All About Go Programming Language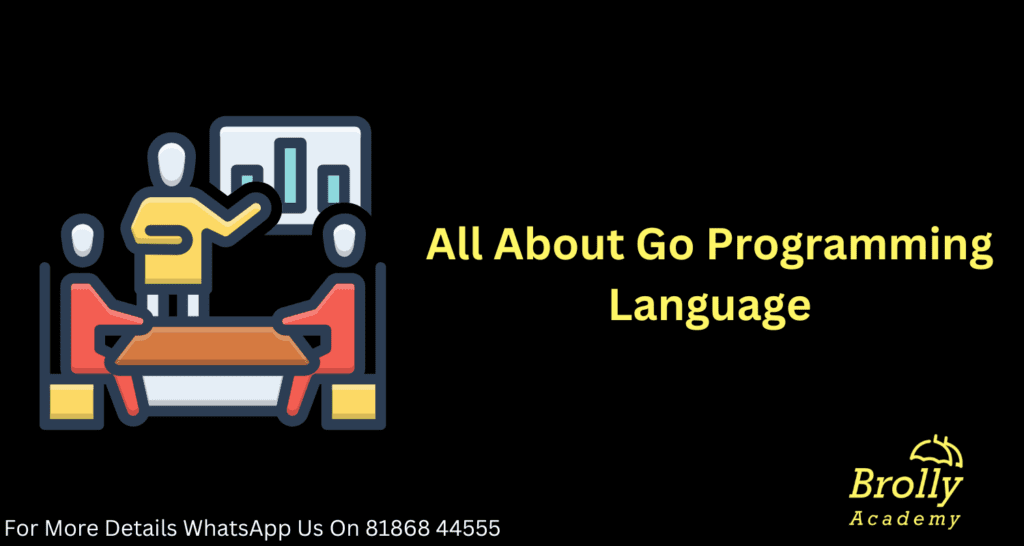 All About Go Programming Language
The programming language Go is procedural. It was created in 2007 at Google by Rob Pike, Robert Griesemer, and Ken Thompson, although it wasn't released as an open-source programming language until 2009. Packages are used in the assembly of programs to manage dependencies effectively. 
In the same way, dynamic languages do, this language also allows environment adoption patterns. Inference of type, for instance (y:= 0 is an allowed declaration of a variable y of type float).
Google created the open-source programming language Go, often known as Golang or Go. Go is a programming language that programmers use to create a variety of operating systems, frameworks, web applications, cloud services, networking services, and other kinds of software.
A concurrent, statically typed, and garbage-collected programming language called Go has been created at Google in 2009. It is a well-liked option for developing scalable network services, online applications, and command-line utilities since it is made to be straightforward, effective, and quick to understand.
Concurrency, or the capacity to carry out many tasks at the same time, is supported by Go. Goroutines and Channels, which enable you to create code that can execute many tasks concurrently, are two tools that God uses to provide concurrency. Because of this, Go is an excellent choice for creating high-performance, scalable network services as well as for resolving challenging computational issues.
Go's garbage collection, which maintains memory for you automatically, is another crucial aspect. As a result, manual memory management is no longer necessary, which lowers the risk of memory leaks along with the other issues that can result from human memory management.
Why You Should Learn Golang
These are the standard procedures for installing GoLang:

Visit the official GoLang website and download the installation for your operating system. Your OS will be automatically detected by the downloads page, which will then provide the proper download link.

Run the installer next, then adhere to the directions displayed. You will receive instructions from the installer on how to set up environment variables and install GoLang on your machine, as well as how to select an installation path.

Open the terminal and enter the following command to ensure that the GoLang programming language has been appropriately installed. go version. The Go language version that you have installed should be shown by this.

Once GoLang is installed, you may use a text editor and the command-line tools in GoLang to start writing and running Go programs. Integrated development environments (IDEs) like GoLand, Visual Studio Code, or Eclipse can also be used if they have the required GoLang plugin.
Components of the Go Programming Language
Go and Python are both highly popular programming languages, each with its own strengths and weaknesses. Let's compare Go and Python based on several key factors:
Advantages of Using Go Programing Language
DisAdvantages of Go Programing Language
Future of Go programming language
Future Go development will increasingly focus on the preferences and requirements of its developer community, with Go's maintainers modifying the language to better serve this audience rather than setting a rigid precedent. 

Generics are a prime example, which was finally incorporated into the language after significant debate over how to proceed.

The 2021 Go Developer Survey indicated that while Go users were generally satisfied with the language's capabilities, there was still much space for improvement. Dependency management, a perennial problem in Go, bug diagnosis, and reliability were the top areas where users requested changes, with problems like memory utilization, binary sizes, CPU usage, and build times receiving much less attention.

A core collection of use cases is what most languages choose to focus on. Since Go has been around for a decade, network services have become its specialty, and there it is expected to keep gaining ground. Generally speaking, the language's most common use case was for building APIs or RPC services (49%), which was followed by web services (10%), data processing (10%), and CLI applications (8%).

The number of developers that choose the Go language after evaluating it is another indication of its increasing popularity. 75% of those surveyed who were debating using Go for a project decided against it. Rust (25%), Python (17%), & Java (12%) were the most popular choices among individuals who didn't choose Go. 

Each of these languages has or is developing new areas of specialization: Python for automation, prototyping, and glue code; Rust for secure and quick systems programming; and Java for enduring corporate applications.

Go's speed and ease of development have yet to be seen in what other use cases they will be applied, or how deeply Go will permeate enterprise development. However, Go's position as a leading programming language is already secure, especially in the cloud, where its speed and ease of use make it easier to build a scalable infrastructure that can be kept up over time.