A Complete Step-By-Step ISTQB Tutorial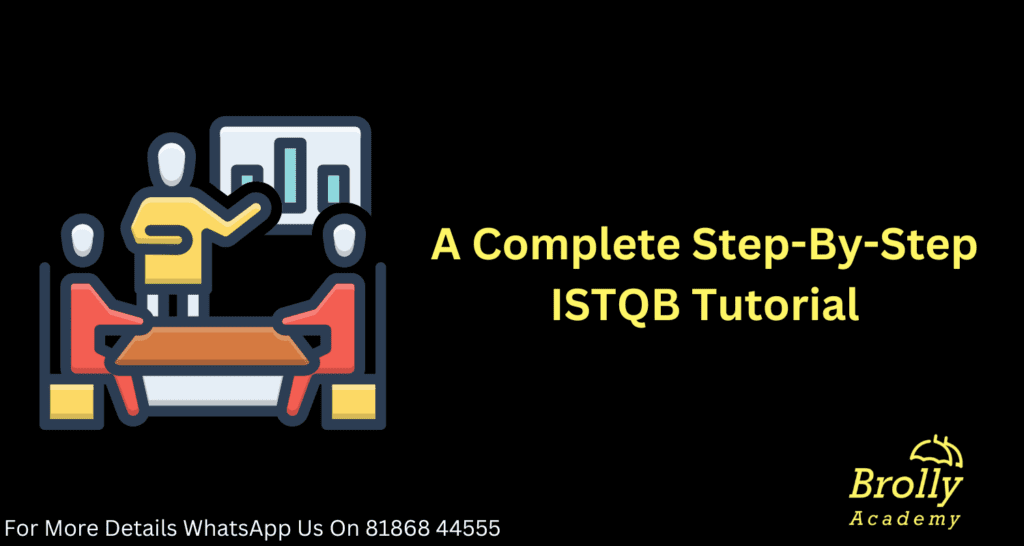 A Complete Step-By-Step ISTQB Tutorial
ISTQB is a reputable organization and is trusted for software testing and quality assurance certification from a business perspective. 
The International Software Testing Qualifications Board (ISTQB), a non-profit organization with official registration in Belgium, was founded in 2002 to give software testers worldwide standardized certification. The 58 member boards of the ISTQB represent 80 different countries. 
ISTQB is more advanced and hence more developed as compared to the other organization of a similar nature, ISCB (International Software Certification Board). The board provides candidates with a hierarchical chain of qualifications that must be met based on the previously established respective syllabi.
What is Software Testing?
Software testing is a crucial process in the software development lifecycle that ensures the quality, reliability, and functionality of a software application. It involves the systematic and methodical examination of software to identify defects, errors, and discrepancies, ultimately providing developers with the necessary feedback to improve the software's performance and user experience.
Software testing is sometimes misunderstood to simply involve using a system or piece of software and reporting on its functionality. The testing process, in actuality, has many various aspects, including, but not limited to, test execution, test planning, results analysis, designing and executing tests, reporting test progress, and system evaluation. Additionally, there is a distinction between static and dynamic testing. A dynamic test involves a system or component that is being tested. A static test is one in which a system is not actively used during the testing process. 
Executing a workflow within a system to check if its functions might be considered a type of dynamic testing even though it is frequently considered a standard testing activity. Static testing could take the form of reading a technical description of a system that hasn't yet been developed and posing questions that prompt modifications in the design based on problems that haven't yet been incorporated into the system.
Purpose of Software Testing
The primary purpose of software testing is to verify that a software application meets its intended requirements and functions as expected. Through rigorous testing, developers aim to uncover defects that could lead to failures, data loss, security breaches, or unsatisfactory user experiences. By identifying and fixing these issues early in the development process, software testing contributes to reducing development costs and enhancing the overall product quality.
Types of Software Testing
Software testing encompasses a wide range of techniques and approaches. Some of the most common types of software testing include:
Why is Testing Necessary?
Testing is an essential aspect of the software development process. Its primary purpose is to identify and eliminate defects, ensuring that software applications function as intended and meet user expectations. By subjecting the software to various test scenarios, testers can uncover bugs, logic flaws, and issues that could lead to system failures or undesirable outcomes. This early detection and resolution of defects prevent costly fixes during later stages or after the software's release. 
Testing also ensures software reliability by validating its functionality and performance under different conditions. Moreover, it enhances software quality by evaluating compliance with specifications and user requirements, delivering a polished and error-free product. Ultimately, testing proves cost-effective by minimizing post-release fixes and preserving the software's reputation.
Why should we take the ISTQB certification exam?
Software testing is becoming increasingly challenging and needs nothing less than a specialization in the relevant sector because software is becoming more complicated and densely webbed as of late. You are given the necessary designation of "expert" in this field by ISTQB. 
One of the few qualifications that is valued and respected in so many different nations is this one. Such a credential will increase your self-assurance and provide you an advantage over rivals while also assisting you in using your talents in your practical employment.
You will advance in your career and be proud to display the "certified tester" stripes as a result. If you work for a testing company, having several qualified testers on your staff can help your business generate more cash by offering more expert services.
ISTQB Certification Levels?
There are three levels to this certification:
How to prepare for the ISTQB exam?
The International Software Testing Qualifications Board (ISTQB) certification is a globally recognized credential for software testers. Preparing for the ISTQB exam requires dedication, a structured approach, and a clear understanding of the syllabus and exam pattern. In this guide, we will outline an effective step-by-step preparation strategy to help you succeed in the ISTQB exam and enhance your software testing career prospects.
Benefits of ISTQB Certification
The ISTQB is expected to see significant developments in the future that will influence the software testing industry. With the increasing adoption of Agile and DevOps methodologies, ISTQB certifications will likely incorporate testing practices that align with these approaches, emphasizing continuous testing, test automation, and seamless collaboration between development and testing teams. The rise of Artificial Intelligence (AI) and Machine Learning (ML) in software applications will lead to the integration of AI-driven testing techniques into ISTQB certifications, optimizing test case design, execution, and analysis. 
As the tech industry continues to evolve, ISTQB will emphasize continuous learning and professional development, encouraging testers to stay updated with the latest advancements in technology and industry best practices.
Model-based testing is a theory that focuses on software testing that results from abstract models that reflect a particular system function or expected behavior. It is challenging but very advantageous for IT organizations because this method sees software testing as a crucial component of software development.
The Model-Based Tester module offers extra knowledge and abilities in the process, methodology, and techniques of model-based testing to professional testers. This certification would be helpful for everyone who wants to understand the usage of models for test generations, not just for software testing specialists like software testers, technical test analysts, test analysts, and test managers.
You can expand and deepen your knowledge by earning certifications, which not only lead to better professional chances but also open doors for you abroad. Companies are always looking for highly qualified persons that are better suited for the position.
Despite this, passing the ISTQB exam is still challenging, and you might require assistance from an expert. Candidates must get a qualifying percentage of 65% and possess in-depth testing expertise. This is where making an informed decision on a qualified trainer will pay off and direct your efforts.
You can take advantage of Brolly Academy's top-notch ISTQB Certification preparation courses. Brolly Academy is a leader in the teaching of software testers seeking ISTQB Certification. Brolly is your solution to your new professional doorway with interactive sessions, networking opportunities, exam registration aid, and continuous encouragement.