A Complete Overview of Azure DevOps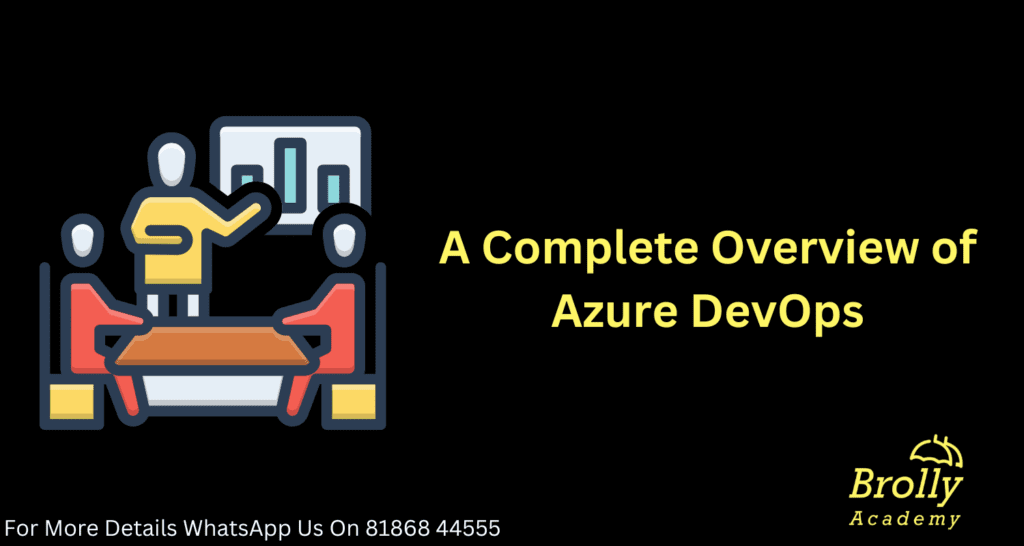 DevOps has opened the way for quicker and more agile software development processes by combining teams, procedures, and technology to produce an SDLC that is always changing. As a result, SDLCs are now more reliable and effective and can handle any user request, technological challenge, or market demand.
DevOps can be facilitated by various tools, including CI/CD tools, version control systems, IaC tools, artifact repositories, and monitoring tools, which are all readily accessible on the market. DevOps tools have moved to cloud solutions in response to the rising need for cloud-based technology. Teams located all over the world can use these cloud services with almost limitless scalability and effectiveness.
In this article, we'll look at a Microsoft Azure DevOps service that provides such cloud-based DevOps services.
Azure DevOps is a comprehensive platform provided by Microsoft that offers a range of development tools and services. It is designed to facilitate collaboration and streamline the software development lifecycle (SDLC). Azure DevOps brings together various features and capabilities to enable teams to plan, develop, test, and deliver software more efficiently. 
You can track the development of your program and make decisions to deliver top-notch software to end customers with the aid of a tool offered by Azure DevOps. The Azure DevOps services are independent of any platform or cloud.
Azure DevOps Services is a comprehensive suite of cloud-based development tools and services provided by Microsoft. It offers a range of features and functionalities that enable teams to collaborate effectively, automate workflows, and deliver high-quality software products efficiently.
Azure DevOps: Registration
Azure DevOps registration is a quick and easy process that only needs a Microsoft account. Simply visit the official page, and then select "Start for free."
You must fill out a few additional fields during registration, such as organization name, version control type (repo),  project name, etc.
The organization is the name of the Azure DevOps account. There may be multiple projects within the organization.
Projects give users the ability to divide projects, manage access, and keep code, tests, and pipelines inside the designated projects. A project's version control system may be Team Foundation Server or Git, and it may be either private or public. Additionally, work item processes like Agile or Scrum can be configured for projects so that they can be managed in Azure Boards.
After completing the registration, you will receive a unique organization URL with the following notation:
https://<organization name>.visualstudio.com
By going to this URL, users can manage all of their projects and utilize the DevOps services.
From small startups to large enterprises, Azure DevOps provides a wide range of tools and services that streamline the software development lifecycle.
Software development teams are the primary users of Azure DevOps. Whether they are working on web applications, mobile apps, or cloud-based solutions, development teams leverage Azure DevOps to collaborate, manage source code, automate builds, and streamline the deployment process. Azure Repos and Azure Pipelines are particularly valuable components for developers, enabling them to version control their code and automate the entire CI/CD pipeline.
IT operations teams utilize Azure DevOps to ensure smooth deployment and operation of software applications. By leveraging Azure Pipelines, operations teams can automate infrastructure provisioning, configuration management, and release management. This allows them to maintain consistency, enforce governance policies, and reduce manual errors in deploying and managing software in production environments.
Quality assurance and testing teams benefit from Azure DevOps by using Azure Test Plans to manage test cases, execute test runs, and track testing progress. With Azure DevOps, they can effectively collaborate with developers, report and track bugs, and ensure comprehensive testing coverage across various platforms and configurations. Azure Test Plans provides robust testing capabilities, facilitating the delivery of high-quality software.
Project managers rely on Azure DevOps to plan, track, and manage software development projects. Azure Boards offers agile project management features, including backlog management, sprint planning, and task tracking. Project managers can gain visibility into project progress, allocate resources effectively, and monitor team performance. Azure Boards provide real-time insights, empowering project managers to make informed decisions and keep projects on track.
Azure DevOps enables cross-functional teams to collaborate and align their efforts seamlessly. With features like Kanban boards, work item tracking, and integrated communication tools, cross-functional teams can work together efficiently, sharing knowledge, and collaborating on tasks. Azure DevOps promotes transparency, fosters effective communication, and encourages collaboration among team members with different roles and skill sets.
Skills required to learn Azure DevOps
Azure DevOps Service Vs Server
| Feature | Azure DevOps Service | Azure DevOps Server |
| --- | --- | --- |
| | | |
| Infrastructure Management | | |
| | | Scalability managed by organization |
| | Automatic updates and maintenance | Manual updates and maintenance |
| | Seamless integration with Azure services | Custom integration with existing tools/systems |
| | Azure data center security and compliance | On-premises control for sensitive data |
| | Limited customization options | Extensive customization and extensions |
| | Standard and extended support available | Long-term support available |
| | Requires internet connectivity | Suitable for air-gapped or limited internet access scenarios |
Azure offers two different general price options: purchasing a user license and individual services. You are entitled to one free self-hosted CI/CD with an unlimited time limit and one free Microsoft-hosted CI/CD for each service. Azure artifacts with 2GB of storage are available for use. The cost of Microsoft-hosted jobs is about Rs. 2500, and the cost of self-hosted jobs is about Rs. 1000 after the free parallel jobs. After the free storage, you must pay a fee of about Rs. 150.
There are two plans for the user license: the Basic Plan & the Basic Plan along with Testing. The first five users can utilize the basic plan for free, which contains all the essential features. Following that, you must pay approximately Rs. 400 per user per month. However, you must pay a fee equal to about Rs. 3500 per user per month upfront for the basic plan with testing.
The future of Azure DevOps and the engineers skilled in DevOps will be fantastic as real applications of DevOps grow every day. With DevOps, though, a lot of things would change and get better. One of the primary characteristics would be that software would be heavily built and operated from the cloud itself, which might bring about a significant change in the DevOps industry! Therefore, picking your Azure DevOps organization is crucial.