A Complete Looker Tutorials
What Is And How Looker Works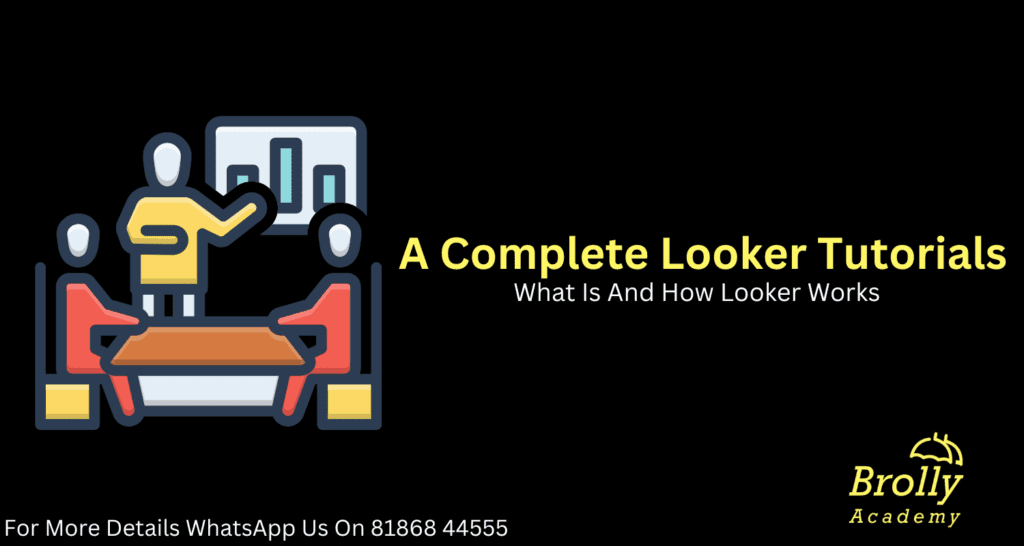 Some of the few technologies that businesses are implementing to better understand their customers are data analytics & business intelligence (BI). In this area, many solutions are developed to aid businesses in learning crucial customer insights. Looker is one of these tools. Looker is a business intelligence tool and big data analytics platform that enables organizations to quickly explore, examine, and share business insights. Looker employs Looker ML (LookML) to explain the connections between different database characteristics.
The language Looker utilizes to describe the dimensions and connections between different entities in a SQL database is called Looker ML. Understanding Looker ML is essential for figuring out the connections between various database entities and for creating the right SQL queries.
In this article, You will learn about Looker ML. Additionally, a brief overview of Looker's features will be provided so that you may grasp how Looker uses Looker ML to extract insights from SQL databases.
A cloud-based BI solution called Looker enables you to explore, share, and visualize data to help in the making of better business decisions. Now a part of the Google Cloud Platform, Looker. It enables everyone in your company to swiftly analyze and glean insights from your datasets. Building a data exploration platform with Looker is relatively simple and will provide your entire organization access to your data in a meaningful, user-friendly way.
Looker employs the Data Modelling Language (DML) and has a built-in framework. You may analyze data in a highly effective and beneficial way with Looker. Using Looker, you can quickly connect to many data sources and create custom dashboards, KPI dashboards, etc.
Looker offers tools to support a variety of data experiences, including contemporary BI and embedded analytics as well as integrating workflows and creating unique apps. Looker enables you to access the most recent version of your company's data, no matter where it is stored. It is a one-stop shop for data management, analytics, visualization, and business intelligence.
The Architecture of Looker
Looker makes use of a Linux server as part of its database architecture. In Looker, numerous connections are made via the Linux server. Looker may be hosted by Looker itself or by a third party. Installation, configuration, and administration of Looker are handled by the Looker instance naturally when using a hosted instance of Looker.
Looker is made up of a variety of components, including the Analytics database, Linux, the internal database of Looker, user clients, as well as external communications. These elements are used to create connections.
The Looker is connected to the databases through the analytics database. SSL connections and SSH tunneling are used to provide encrypted communications and additional authentication to assure security. Both client and web-based access can employ authentication and user-based protocols.
Looker operates on a Linux server and runs on a Java runtime environment-based operating system. Through the use of a firewall or VPC (Virtual Private Cloud), security is enabled throughout the entire Looker deployment. There are established external communications that cover subscription management, looker usage, problem reporting, and Git integration. For big deployments and clustered configurations, the internal database of Looker uses My SQL. The looker program doesn't get impacted by where the data is stored.
For the internal databases of the Looker program, you can use HyperSQL, which functions as an in-memory database by default. The database's size can occasionally increase exponentially, which might cause problems with performance. Therefore, you should utilize a MySQL database rather than a HyperSQL database to overcome these problems. Place a cluster of Looker nodes close to the load balancer to further reduce Looker's heavy traffic control.
Between the user and the database, LookML (Looker Modelling Language) creates abstracted SQL and offers a modeling layer. A layer of abstraction for SQL databases is offered by Looker's proprietary language.
In a SQL database, LookML is a language used to describe dimensions, calculations, aggregates, and data relationships. Looker creates SQL queries for a specific database using a model described in LookML. Between the SQL database and the business user's interactions with it, a layer is created.
As a result, it provides definitions for a wide range of concepts, including how to join tables, construct custom tables, define database fields, and specify the logic for new columns. You will gain practical familiarity with the foundations of LookML in this lab.
Looker is a tool that generates SQL queries and executes them against a database connection. Depending on the LookML project, which explains the connection between columns & tables in a database, generates SQL queries.
The procedures that follow describe how a Looker operates:
Career Opportunities in Looker
Organizations require effective tools that help in the analysis and visualization of data in the data-driven business world of today. One such platform that has grown significantly in popularity over the past few years is Looker, a potent business intelligence and data visualization tool. As a result, Looker has developed a variety of job opportunities for people who are proficient in the platform. In this blog, we'll look at the various career options offered by Looker and the skills needed to succeed in them.
What are the benefits of a looker?
Looker is undoubtedly a tool to keep an eye on for the functionality and durability that it offers. I hope you now have a basic understanding of Looker and its goal. This marks the conclusion of this blog. I hope it was enjoyable for you to read. You can post your questions in the comments section below if it has anything to do with this blog. We are more than happy to address them. Happy learning and thanks again!