A Complete Guide to Snaplogic Tutorial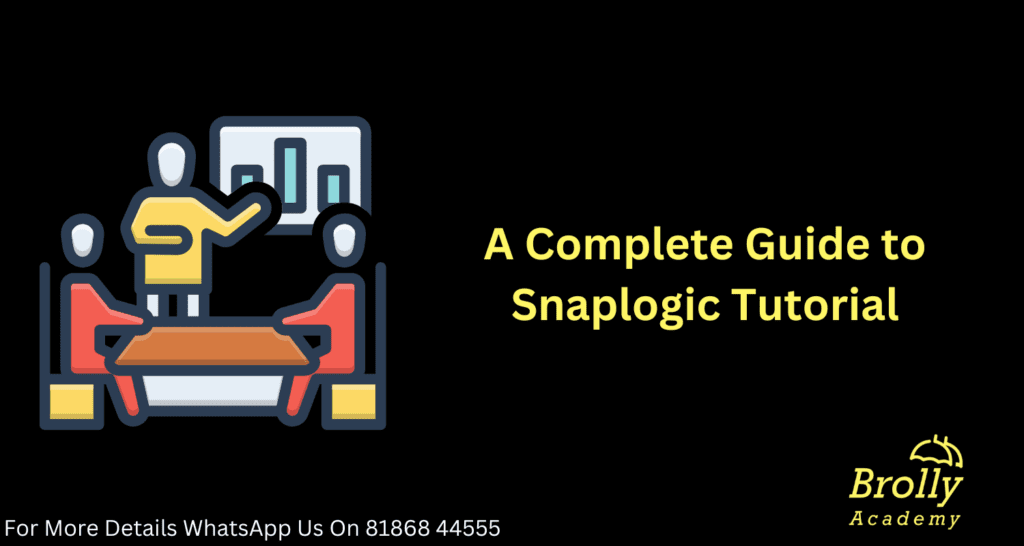 In this internet era, where the digital revolution has risen and enterprises are going online, cloud-based solutions are a prerequisite. One such commercial software provider that offers its clients cloud-based services is SnapLogic. You can communicate and store data online using this. This makes it easier for users to connect cloud-based applications to other enterprise platforms. It enables the linking of cloud data sources. The products are designed to make it possible for companies with limited access to technology to ingest and manage data from diverse sources. SnapLogic enables businesses by automating various processes, including application development.
The "Snaps" feature of SnapLogic condenses integration task complexity. Here, snap is a SnapLogic connector that can handle both simple and complex operations. It can carry out operations including reading data from a file, examining data, and giving full access to all the data. Whatever your requirements for the cloud may be, SnapLogic is not what you need. All forms of integration, including batch, real-time, and streaming integration, are supported by the SnapLogic architecture. This makes it easier to handle data of any type, speed, or volume.
A software business called SnapLogic offers cloud combination products that let users connect cloud-based data and applications with both on-premises and cloud-based business processes. 
The solutions were created to enable access to and consolidation of information from many sources for business users, even those without any technological expertise.
One of Networking World's Ten Open Source Organisations to Watch is SnapLogic, a well-known provider of news, events, research, reviews, and education in the field of information technology.
SnapLogic's architecture is made to be extremely scalable, adaptable, and extendable to quickly and efficiently gather data from a variety of sources & applications. It follows a multi-layered design made up of many different components to provide an effortless integrating experience.
The SnapLogic architecture is composed of the Control Plane and the Data Plane. Data processing happens on the data plane, but the control plane is cloud-based. The three main components of the control plane are the manager, designer, and monitor.
Along with load-balancing of the hardware and software, the platform also has security measures. A repository offers metadata information about the pipelines and their extensions. These activities are all hosted in the cloud because the control plane is a multi-tenant platform.
The majority of the data plane is made up of the execution space, which is where your company's data is processed. This Snap Lexus is comprised of the Cloud Flex & Ground Flex versions.
The SnapLogic Architecture Layers
SnapLogic's strong networking framework is the foundation of its integration ability. A variety of data sources, both on-premises and in the cloud, can be securely connected using the extensive library of pre-built connectors, or "Snaps," that SnapLogic provides. These Snaps considerably speed up the integration process by removing the need for intricate coding or specialized connectors.
SnapLogic's Connection component makes sure that various systems can communicate with each other without any issues, whether they are connecting to well-known SaaS apps like Salesforce, databases like Oracle and SQL Server, or cutting-edge technologies like IoT devices. Real-time data sharing made possible by this link paves the way for effective integration operations.
Business users and integration specialists alike may construct integration workflows without substantial technical knowledge due to SnapLogic's user-friendly drag-and-drop interface. This Design component makes it possible to build pipelines that depict the data flow between various endpoints and are aesthetically pleasing and simple to understand.
Users can select Snaps from a huge collection and put them together logically to depict different integration procedures. Users can configure data mappings, filters, aggregations, and other data transformations using the design canvas, which offers clear visualization of data transformations. This visual method encourages collaboration between the business and IT teams while simultaneously increasing efficiency.
Data often needs to transform before it can be meaningfully integrated into target systems. SnapLogic's Transformation component offers a range of built-in functions and transformations that enable users to shape data to fit their requirements. This includes data cleansing, validation, enrichment, and complex calculations.
The platform supports both batch and real-time data transformations, ensuring that data is processed and prepared in the desired format before reaching its destination. The Transformation component enhances data quality and consistency, reducing the likelihood of errors during integration.
The Execution component takes center stage when the integration procedure has been designed and the data has been transformed. The elastic integration engine of SnapLogic handles data migration between numerous endpoints while executing integration pipelines quickly and effectively.
Even the most difficult integrations can be completed quickly because of the platform's capacity to scale resources flexibly. Users can track performance indicators, keep track of integration task progress in real-time, and resolve any potential problems. This execution component ensures that integrated data is delivered accurately and on time to its appropriate location.
To provide smooth data integration across a variety of sources and applications, SnapLogic Connectors are essential. These connectors act as the crucial link between various systems, allowing for easy data transfer. SnapLogic Connectors enable businesses to streamline their integration processes, improve data quality, and extract important insights from their data ecosystem by doing away with the need for intricate coding and manual data processing.
SnapLogic Connectors are designed to establish secure and efficient connections to various data sources, both on-premises and in the cloud. They act as specialized gateways that enable data to be pulled from or pushed to different systems, applications, and databases. This level of interoperability ensures that data remains consistent and up-to-date across the organization, supporting better decision-making and operational efficiency.
Key Features of SnapLogic Connectors
Some of the popular connectors
Businesses may streamline processes and gain new insights from their data by using SnapLogic tools to link data and apps more quickly and easily.
In this age of digitization, where businesses are coming online and consumers are using the internet to satisfy their various demands, a solution that helps integrate data effectively and effortlessly from anywhere has become crucial. SnapLogic can help in this situation. Behind the company's firewall, it helps businesses integrate cloud-based and enterprise technologies.
Since the cloud-based platform fits the needs of both an iPaaS and an ETL/ELT integration platform, it is a blessing for many enterprises. With the help of AI, the integration development job may be completed precisely, rapidly, and in a short amount of time. Consequently, developer productivity and time to market are considerably improved. SnapLogic provides an all-encompassing platform that satisfies different integration requirements, supporting businesses in merging and automating their crucial business operations.