A Complete Guide To Manual Testing Course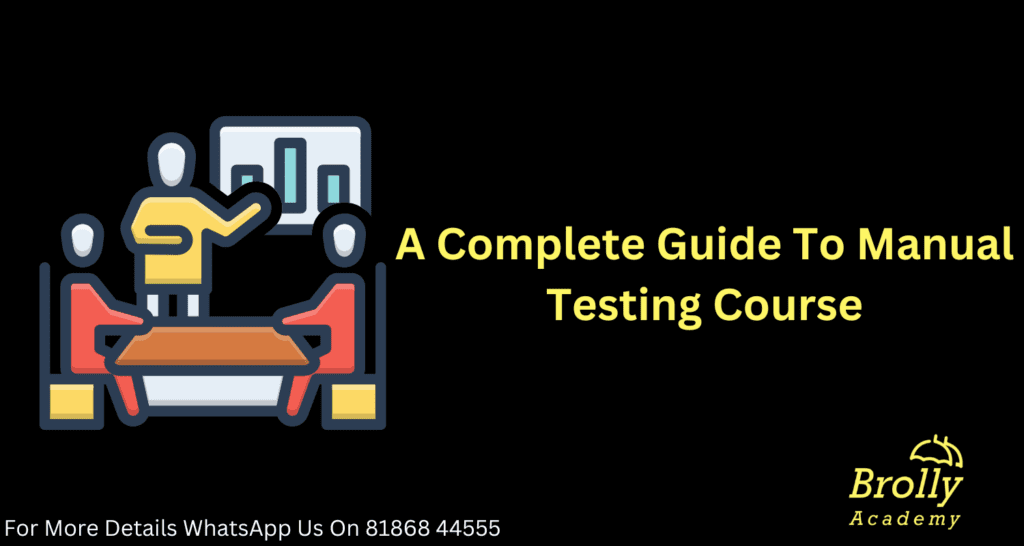 A Complete Guide To Manual Testing Course
When testing software manually, test cases are carried out by hand without the use of an automated testing tool. The test cases will be manually executed by testers from the viewpoint of the end user. It determines whether or not the application is operating as shown in the requirement document. It is one of the crucial testing procedures since it can find both obvious and hidden software defects. A bug is defined as the discrepancy between the output that was produced and what was anticipated.  
Software must first undergo manual testing before undergoing automation testing for all recently produced software. Although manual testing takes a lot of time and work, it guarantees that the product is bug-free. So, you must master manual testing if you want to have a successful career in software testing. 
Enroll in our manual testing training if you'd want to learn how to test manually. The average annual income for a manual tester in the US is roughly $112K, according to ziprecruiter.com. We will go over each manual testing concept in detail in this beginner's manual testing guide.
Software testing that is conducted manually involves the development and execution of test cases by a software tester without the aid of any automated testing tools. Finding problems, bugs, and flaws in a software program is the primary goal of manual testing. Before performing the automation testing, any new software program needs to be manually tested. Manual Testing is crucial because of the principle of software testing "100% Automation is not possible".
Software Testing Life Cycle (STLC)
The Software Testing Life Cycle (STLC) is a systematic approach that outlines the various stages and activities involved in testing a software application to ensure its quality and reliability. The STLC provides a structured framework for testers and QA professionals to plan, design, execute, and evaluate testing efforts.
The process of unit testing involves examining different units or components of source code. A unit is the smallest software component that can be tested. It focuses on evaluating the operation of certain application components. Early in the development cycle, it is frequently used by developers to find flaws. 
A simple unit test case might be to click a button on a website and see if it executes the requested action. For instance, you might check that a website's share button allows you to share the right page link.
Integration testing occurs after unit testing and involves testing multiple units together as a group. The main objective is to verify the seamless interaction between different units and to identify any issues that may arise when they are combined. Testers check data flow, communication between units, and interface compatibility.
In integration testing, stubs and drivers are used to simulate the behavior of units that are not yet developed or are unavailable for testing. This allows for a controlled testing environment and ensures that the integration points are functioning correctly. Integration testing helps catch integration-related defects early in the development process, reducing the risk of costly issues during system testing.
System testing is a comprehensive test of the entire software system. It is performed to evaluate the system's compliance with specified requirements and to validate that it functions as intended in real-world scenarios. This type of testing involves both functional and non-functional testing to ensure that all components work harmoniously together.
Testers execute a wide range of test cases, covering various user scenarios, inputs, and outputs. Functional testing ensures that all features and functionalities are working as documented, while non-functional testing assesses aspects such as performance, security, and scalability.
System testing aims to identify defects related to the interaction between different modules and any issues that may have been missed in previous testing phases. It helps ensure that the software meets the desired quality standards before deployment.
User Interface (UI) testing focuses on assessing the software's graphical user interface. Testers verify that the UI elements are aesthetically pleasing, well-aligned, and function as expected. They test the responsiveness of the interface on various devices and screen sizes, ensuring a consistent user experience. UI testing plays a vital role in enhancing the software's usability and user satisfaction.
Acceptance testing's primary objective is to determine if the system as a whole is suitable for usage in the real world.
Both internal and external testing is done as part of acceptance testing. Alpha testing, also known as internal acceptability testing, is carried out by the organization's members. Only a small proportion of customers test products outside (beta testing). Teams can assess how well the product meets user expectations using this method. Additionally, it finds flaws in the final stages before a product is made available.
Accessibility testing stands out among other types of acceptance testing. Every function of a website or app must pass accessibility testing to ensure that users with limitations like vision or hearing impairment, color blindness, or any other physical conditions can easily use all of its features. They can have a disability that makes using some types of technology necessitate assistive technology.
Why manual testing is needed
Whenever a fresh application enters the market and is unstable, contains bugs, causes problems, or causes issues for consumers.
If we don't want to run into issues like this, we should run the program through one round of testing to make it stable and bug-free before delivering it to the client. If the application is bug-free, the end user will find it easier to use.
The test engineer may test the application from the standpoint of the end-user and become more familiar with the product if they conduct manual testing. This allows them to design accurate test cases for the application and provide timely feedback on it.
Advantages of Manual Testing
Disadvantages of Manual Testing
For those who are looking to start their careers as software test engineers, this manual testing course article may be beneficial. Anyone can pursue a career in manual testing because it doesn't require programming expertise, but it does require familiarity with the product. Software testers can choose from a wide variety of positions available worldwide. 
Therefore, it is usually recommended to receive training from an established institution. For more information about our manual test course, please visit our website. This course was created with the help of the SME team, and we'll be working on a lot of current, industry-driven projects. For individuals that enroll in one of our courses, this will be an added benefit.