A Complete AWS Tutorial For Beginners
A Complete AWS Tutorial For Beginners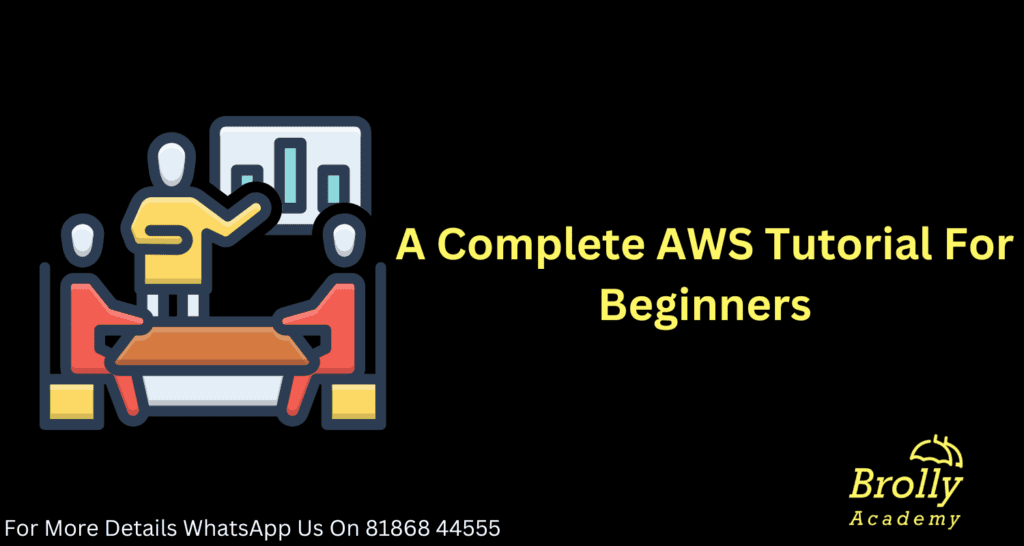 This AWS tutorial is intended for those working professionals who want to learn more about cloud computing. It will assist you in pursuing a career as an AWS Solution Architect, DevOps Engineer, AWS Engineer, Cloud Architect, etc. Before learning more about AWS's services, let's try to comprehend what it is.
Learning about AWS Cloud services makes sense given that every business has begun to utilize cloud computing in some capacity and that AWS is a significant player in the cloud services market. 
There are many different cloud services available. Following are the top three cloud providers:
Let's start the AWS tutorial by learning the foundational concepts of AWS.
You may be aware of Amazon Web Services (AWS) if you're looking for a cloud computing platform. Offering scalable and complete infrastructure and platform services, it's a very big thing in the business.
With the help of AWS, which offers sophisticated solutions to millions of businesses for their computing requirements, the market for cloud computing has seen significant growth. It serves as a one-stop shop for enterprises of all sizes and covers computers, databases, storage, analytics, and more.
Never fear if you're new to AWS. You can find all you need in this article. From what AWS is and how it functions to its benefits and how it may help you scale your operations, I'll cover everything you require to get started.
Different services are delivered via the Internet through cloud computing. These tools and programs comprise software, servers, networking, databases, and data storage, among other things.
Cloud-based storage enables you to save files to a remote database rather than a proprietary hard disc or local storage device. A computer or other electronic device may access information and the software needed to run it as long as it can access the internet.
For a variety of reasons, including speed and efficiency, cost savings, enhanced productivity, performance, and security, cloud computing is a popular choice for both individuals and corporations.
An Overview of Cloud Computing
The reason for the term "cloud computing" is that the data being accessed is located remotely in the cloud or another virtual location. Users can store files and apps on faraway servers and then access the data via the Internet due to businesses that offer cloud services. This enables the user to access it remotely since they are not obliged to be in a specific location to do so.
With the help of cloud computing, you may process data without having to sit down at a computer or carry around heavy equipment. Additionally, it transfers all of that work to large computer clusters located distant in cyberspace. Your work, data, and applications are now accessible from any connected device, anywhere in the world, due to the Internet's transformation into the cloud.
There are public and private clouds available. Internet-based public cloud providers charge a fee for their services. On the other hand, limited numbers of users can access private cloud services. These services consist of a networked infrastructure that offers hosted services. A hybrid option is also available, which incorporates aspects of both private and public services.
Prerequisites to learn AWS
You must first be aware of the qualifications if you want to study a cloud computing course. The majority of IT professionals looking to advance their careers in cloud computing are confused by this basic question. Avoid the misconceptions and concentrate on the prerequisites you require instead.  The next parts aim to dispel any false beliefs surrounding the abilities required to learn AWS while also describing them.
The term "cloud computing" refers to several IT-related ideas. It primarily focuses on themes related to data centers, software engineering, hardware and software infrastructures, and virtualization technologies.
Learn how AWS functions before using one of the many forms of AWS services. Remember that AWS has physical sites to store the data from all regions before digging too deeply into the service. By utilizing the data center it has set up in each of the relevant locations and a fiber network, it provides cloud functionality. 
Because it is a widely utilized cloud platform, Amazon Web Services can be used for any cloud project. All industries can use the same AWS for their cloud computing requirements. AWS makes it simple for small, medium, and large businesses to experiment, innovate more quickly, cut expenses, and improve their efficiency and development agility. 
You have the power to run nearly any website and application because of Amazon, which handles each of the time-consuming duties on its own. The entire Cloud stack's security and upkeep fall under Amazon's responsibility. 
Assume you manage your own eCommerce business and are in charge of all data changes, including scaling, backups, failovers, upgrades, and security patches. 
You just have to do it manually. However, Amazon Relational Database Service (Amazon RDS) is an option. You can start the desired relational database with just a few clicks. You can effortlessly automate all of your time-consuming processes, like provisioning, failure detection, recovery, patching, and backups, with the help of these RDS-managed services. It follows that you will have more time to focus on what's important.
One of the most successful and ground-breaking cloud services is AWS. By making cloud computing technology realistic and available to everyone in the world at low cost and with top-notch service, it has gained a competitive edge. The IT sector's preferred requirement for hosting their data in the cloud has gradually evolved into AWS. The by-product of this is the appearance of AWS development services. Surprisingly, there is still plenty of potential for AWS to participate given the globe has just recently begun to explore the realm of cloud computing. 
Because of AWS and its retail division, Amazon is so successful.  When instances are reserved in advance, AWS gives discounts of up to 75%, yet despite this, the cloud business is extremely profitable and expanding quickly. Did you know that the IaaS cloud offered by AWS is 10 times larger than the sum of its 14 rivals? This demonstrates this service's powerful capabilities in no uncertain terms.